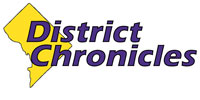 Post Classifieds
NAACP: On journey for justice, influencing Congress and White House
By Hazel Trice Edney
On August 17, 2015
(TriceEdneyWire.com) – NAACP President Cornell William Brooks, currently leading an 860-mile march from Selma, Alabama, to Washington, D.C., has described the march, "America's Journey for Justice," as "building a movement" that he hopes will influence Congress and the presidency.
"This is not a one-time episodic kind of thing. We're building a movement so that once we leave Washington, you have people continuing to press. You will have people going back to their home states having met with their legislators in Washington. So they go back to their home states and they continue to press the case," said Brooks in an interview with the Trice Edney News Wire. "This is not a ceremonial march, this is not a nostalgic march; it is not a commemorative march. It's a march for reform and a march to catalyze and build a movement."
The march, from Aug. 1 to Sept. 16, comes during a season of major civil rights anniversaries. They are the one-year anniversary of the police killing of unarmed teenager Michael Brown in Ferguson, Missouri, Aug. 9; the 50th anniversary of the signing of the Voting Rights Act, Aug. 6, and the 50th anniversary of Bloody Sunday, which was March 7, "all coming together in this year," Brooks described.
Since the killing of Brown and the protests that followed in Ferguson and across the country, Brooks says a fiery momentum pertaining to a list of key issues has been established that must not be lost. In that regard, the underlying theme of the march is "Our Lives, Our Jobs, and Our Schools Matter." Therefore, the marchers are asking for specific legislation on the following issues as listed on NAACP.org:
National standards for use of force for all law enforcement agents, and the passage of the End Racial Profiling Act.
Federal action to ensure every student has access to safe, high quality education, regardless of location and household income.
Federal prioritization of job creation and training, and passage of the Raise the Wage Act and the Paycheck Fairness Act.
That Congress restore, strengthen, and advance the 1965 Voting Rights Act by passing the Voting Rights Advancement Act.
Braving the August heat and traffic along the march route, advocates will conduct teach-ins, online and in-person training on key issues, he described. Marchers will journey from Alabama, where they will focus on economic inequality; Georgia, where the focus will be education reform; South Carolina, criminal justice reform; North Carolina, voting rights; Virginia, where a youth rally will be held and then finishing in Washington, D.C. with advocacy on Capitol Hill.
During the telephone interview with Brooks Aug. 3, the marchers were preparing to hold their first state rally at the Alabama State Capitol. Then on through the other states.
A statement on NAACP.org describes: "Each morning, AJFJ march participants will have breakfast at the meeting locations and then board buses which will take them to the starting point of the march for that day. Boxed lunches will be provided for the marchers along the route. At the end of each day's march, participants will board the buses and return to the meeting locations. Dinner will be provided at the meeting locations at 7:30 p.m., and will be followed by the teach-in for that evening … That's 46 days of old-school marching. That's 860 miles for freedom and dignity. That's 1.7 MILLION steps towards justice."
Brooks says the intent is not only to influence Congressional legislation, but the current and future White House as dozens of candidates line up with hopes to succeed President Obama and the debate season has begun.
"So we come to Washington, streaming by the thousands across the 14th Street Bridge on the 15th of September, we meet that evening for a massive rally and service where we inspire the folks, who have been not only inspired but educated," Brooks envisions. "And then the next day on the 16th, we have an advocacy day where we take thousands of people through the halls of Congress asking for specific reform, marching under the theme that says our Lives, Our Votes, Our Jobs and Our Schools Matter."
Get Top Stories Delivered Weekly
More districtchronicles News Articles
Recent districtchronicles News Articles
Discuss This Article