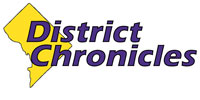 Post Classifieds
Pastor Jamal Bryant to headline empowerment conference
On August 17, 2015
Hundreds of men and women from across the country and the Washington, DC Metropolitan area are expected to convene at The Westin Crystal City Hotel, 1800 Jefferson Davis Highway, Arlington, VA August 27-29, 2015 for "The Breaking Room Encounter 2015 Conference."
This year's theme, "Positioned for the Promise," will provide conferees with the tools for how to reposition their lives and live an accelerated life.
"Last year's conference held at the Gaylord National Harbor Hotel was life changing for hundreds of attendees, and I'm believing God for another power shift. From the Conference workshops to the Thursday and Friday evening worship services, (which are free and open to the public), we are preparing conferees to become 'movers and shifters' in their communities and their churches," said Pastor Zina Pierre.
Speakers from across the Metropolitan area including the Rev. Jamal Bryant of Baltimore, as well as numerous pastors, life and faith coaches will provide workshops and worship services focusing on physical and spiritual health and wellness, as well as strengthening families and marriages. We will also collect clothing items and toiletries to be donated to local clothing banks, domestic violence shelters, and transitional housing for homeless women in the region.
The Breaking Room is a virtual ministry that reaches over 5,000 men and women across the country and abroad via social media, an interactive website, webinar trainings and conference calls. Our professionally trained team of ministers and lay persons work collectively to empower men and women to understanding their life's purpose and helping others. This takes place through weekly webinar training, mental and spiritual health, as well as wellness planning and practice.
Through its Share the Love Outreach program, TBR members visit and donate blankets to the elderly and the sick, participate in reading programs for the youth, and donate toiletries and clothing to battered women shelters and transitional homes throughout the year.
Pastor Zina Pierre will also unveil and sign copies of her new book, "Your Prayers Matter to God: A 50 Day Strategic Prayer Guide and Devotional" prior to the conference.
For more information visit www.thebreakingroom.com.
Get Top Stories Delivered Weekly
More districtchronicles News Articles
Recent districtchronicles News Articles
Discuss This Article