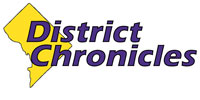 Post Classifieds
Activists demand investigation of Bland's death
By Freddie AllenNNPA Senior Washington Correspondent
On August 17, 2015
(NNPA) – A broad coalition of civil rights groups delivered more than 500,000 signed petitions to the Justice Department, demanding that Attorney General Loretta Lynch immediately launch a full investigation into the death of Sandra Bland and the practices and policies of the Waller County, Texas, police department and prosecutor's office.
While visiting Prairie View A&M University where she had recently been hired, 28-year-old Bland – an alumna of the HBCU – was pulled over for failure to signal before a lane change on July 10. The stop escalated to an arrest and three days later Bland was found dead in a Waller County jail cell.
During a press conference, educator and small business owner, Lois Wilkins – who started the petition on MoveOn.org – recounted a conversation that she had with her daughter, Ebony Joy, who felt a strong connection with Bland's life and tragic death. Joy had admired Bland's work as an activist and her decision to return to her alma mater to mentor the next generation of Black leaders.
"As an African-American mother, I am appalled at the stealing of our children and our future leaders and this is totally unacceptable to me," said Wilkins, who is tired of being afraid for the lives of her four adult children.
"The petitions are not just names on pieces of paper, they represent the power of a potential mass movement in this country that has already changed the conversation," said Eugene Puryear, who works with the Stop Police Terror Project.
The Rev. Graylan Hagler, senior minister of the Plymouth Congregational United Church of Christ and executive director of Faith Strategies, a human and civil rights group in Washington, said that the abuse Blacks suffer at the hands of police is nothing new. The only difference now is that everyone has cellphones capable of recording and are willing to expose police misconduct, which Bland attempted to do before State Trooper Brian Encinia commanded her to put her cell phone down. However, another bystander managed to capture some of the encounter on video.
Waller County officials contend that Bland consumed a large amount of marijuana either just before she was detained or while in jail and committed suicide by hanging herself with a trash bag. They have released hours of video footage to dispel the myth that she was dead in her booking photo or that there was any foul play involved in her death.
The footage from Bland's arrest also showed that Encinia chose to escalate the encounter from a simple warning to an arrest for assault on a police officer after he commanded her to exit her vehicle and she refused. After he attempted to drag Bland out of her car and threatened to use his Taser on her while she sat in the vehicle, she complied.
Rashad Robinson, executive director of ColorOfChange.org, said that from the beginning, Waller County officials have failed to expose the truth about what happened to Bland.
"What we know for sure is that police cannot police themselves, especially with a long history of racism," said Robinson. "Her death was not an isolated tragedy. Waller County has serious problems with systemic racism."
The Atlantic reported that, according to an 1880 census, the county's population was majority Black. Following the U.S. Civil War, it was home to a Freedmen's Bureau office – which was protected by federal troops – and a Ku Klux Klan chapter,
When that majority population status flipped, Blacks lost any political power they had in the county. According to the Equal Justice Initiative, Waller County ranked third in the state for the number of Blacks lynched between 1877 and 1950.
According to Robinson, Black residents currently make up 26 percent of Waller County, yet represent more than 50 percent of the jail population.
Justice Department officials accepted the signed petitions from the activists and told Wilkins that the Federal Bureau of Investigation is monitoring Waller County's investigation into Bland's death.
"I need to know what happened to Sandra Bland," said Wilkins. "And so do the other 500,000 [people] that signed the petition."
Get Top Stories Delivered Weekly
More districtchronicles News Articles
Recent districtchronicles News Articles
Discuss This Article