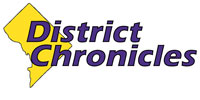 Post Classifieds
Vision Zero asks riders to Bikeshare their safety stories
Metro Brief
On August 25, 2015
The District Department of Transportation (DDOT) has released 30 custom Vision Zero Capital Bikeshare bicycles into circulation as part of a promotion Mayor Muriel Bowser's Vision Zero initiative, which aims at eliminating all fatalities and serious injuries to users of the District's transportation system by 2024.
DDOT is seeking further input describing the experience of bicycling in the District. People on bikes are a particularly vulnerable population of travelers, and the Vision Zero team wants to ensure that this perspective is reflected in our safety strategies.
DDOT is asking Capital Bikeshare riders to Bikeshare their safety stories. Through this visual storytelling exercise, people on Capital Bikeshare bicycles – including the new Vision Zero bike – to their favorite bicycle-friendly street or trail, and tweet a photo to @DCVisionZero to explain how it keeps them safe. Likewise, Bikeshare riders are asked to go to DDOT's Vision Zero Safety Map at http://visionzero.ddot.dc.gov/VisionZero/and report locations where they believe protected bicycle facilities and infrastructure are lacking.
All 30 Vision Zero bikes initially will be placed at the Dupont Circle Station located at Massachusetts Avenue and DuPont Circle NW. DDOT will track the journeys of each bicycle and the safety stories riders share for approximately three weeks.
Vision Zero is a part of Mayor Bowser's response to the U.S. Department of Transportation's Mayor's Challenge for Safer Streets, which aims to improve pedestrian and bicycle transportation safety by showcasing effective local actions, empowering local leaders to take actions, and promoting partnerships to advance pedestrian and bicycle safety.
To find out more about Vision Zero visit www.DCVisionZero.com. You can access the Vision Zero Safety Map by visiting http://visionzero.ddot.dc.gov/VisionZero/
Get Top Stories Delivered Weekly
More districtchronicles News Articles
Recent districtchronicles News Articles
Discuss This Article