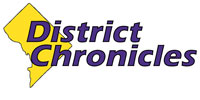 Post Classifieds
Let's get back to what we call hip-hop
By Jineea Butler/NNPA Columnist
On September 1, 2015
(NNPA) – Recently Curtis "50 Cent" Jackson filed for bankruptcy, testifying in court that despite his flashy public persona, he is only worth $4.4 million.
Not that there is anything wrong with that. The dilemma is the art of the illusion. So often we see hip-hop personalities fabricate their status to appear bigger than life.
Rocafella Records' co-founder Dame Dash even admitted in an interview with Boyce Watkins, "We would always pretend that we had more than we had, so we would always make something look bigger."
The rapper's admittance just blew the cover off of that never-ending hip-hop fantasy. According to multiple media outlets, 50 Cent testified he doesn't own the expensive cars and jewelry we consistently see him sporting. He claims he rents, borrows and leases instead.
In its May 2015 issue, Forbes magazine published that Jackson was Number 4 on its Hip-Hop's Wealthiest Artists list at $155 million. They also referenced that he was deservedly "still enjoying the fruits" of his epic $100 million Vitamin Water deal that he banked in 2007. He deserves an Oscar for keeping up the $155 million dollar front and pretending like he doesn't have as much money as we perceived.
Nevertheless, how are people supposed to take us serious if everything we live by is fake? If the most visible around us are fronting, what does that say about the rest of us?
We are already plagued with fake butts, hair, breast and jewelry. How can we advance our cause if the majority of the culture is misrepresenting itself and making terrible decisions on behalf of hip hop?
From Rick Ross assaulting his gardener, to Diddy hitting his son's football coach with a kettlebell, the hip-hop lifestyle doesn't seem so attractive. I assume that that was the objective in hiring all these artists to run amok and act a fool.
This however, may be a breakthrough for the community at large. We have an opportunity to usher in the next school of artists that includes intellectuals, activists, entrepreneurs and the like. The chorus to the hit song "Legends Never Die" by Kloke, featuring Sadat X and Rash, says it all: "Let's get back to what we call hip hop."
We have to stop competing against one another and start competing with the real world around us. We have to go back to the basics and prepare ourselves for the near future. We have lost ourselves trying to live in the moment and act like we have money to spend when, in fact, we don't.
A lot is lost in the illusion because of the time and effort spent on perfecting it. So much so we start to believe our own hype.
Jineea Butler is a hip-hop analyst and founder of the Social Services of Hip Hop and the Hip Hop Union,. She can be reached jineea@gmail.com and on Twitter at @newamericanfly.
Get Top Stories Delivered Weekly
More districtchronicles News Articles
Recent districtchronicles News Articles
Discuss This Article