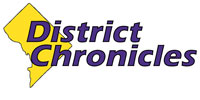 Post Classifieds
Millennial rift exposed at Texas Southern University forum
By Jerry Ford II/Special to the NNPA from the Houston Forward Times
On September 1, 2015
On the day the family of Sandra Bland filed a lawsuit against the Waller County Police department, many community leaders assembled at the Barbara Jordan–Mickey Leland School of Public Affairs at Texas Southern University, as a community forum called "WHATHAPPENEDTOSANDRABLAND" was held.
Speakers included Marlon Smith, Black Greeks Speak; Tarsha Jackson, Texas Organizing Project; Professor Howard Henderson, TSU School of Public Affairs; Sarah Guidry, Earl Carl Institute executive director; and DeWayne Charleston, former Waller County Justice of the Peace.
Charleston was the first African American elected in Waller County and served two terms as Justice of the Peace. He was involved in the federal lawsuit that resulted in Prairie View A&M University students finally being allowed to vote, based on the U.S. Supreme Court ruling in 1979 in The United States v. Waller County.
Congressman Al Green made an appearance and received the loudest reception as his roaring speech brought community members to their feet. Other notables in attendance included former TSU president and current Houston NAACP chapter president Dr. James Douglas, who pleaded for the decriminalization of noncriminal drug offenses.
The event invited millennials to participate in the discussion via a live discussion on Twitter following #WhatHappenedtoSandraBlandTSU.
The community discussion on Twitter had a completely different tone than the forum taking place inside the Barbara Jordan-Mickey Leland auditorium.
One Twitter user stated "#WhatHappenedToSandraBlandtsu why are we always told to be peaceful? Clearly we are here because there's an epidemic of POLICE violence," wrote @kalebjtaylor.
"I don't want to talk about more talking. We are done talking #WhatHappenedtoSandraBlandTSU," posted @DivineLadiL.
The frustration on Twitter began to spill over into the auditorium, when a question asked on Twitter was asked at the forum and answered out loud.
No panelist jumped to immediately answer the question, "How can student activists and millennials best effect change in our community? #WhatHappenedToSandraBlandtsu."
Finally, a panelist responded by telling young people to get on Facebook. The moderator then quickly moved on to the next question, which then set off a negative chain of events in the crowd.
Some students walked out in disgust as a few community members started screaming and interrupting the panelists, pleading to the group to address the younger generation's questions.
"Telling millennials to go on Facebook shows how the older generation is disconnected from the younger generation because we don't use Facebook that often anymore," said Kaleb Taylor, junior at Texas Southern University.
Afterwards, many millennials echoed the notion that the forum confirmed that the people with power do not have a real strategy for change.
The sentiments from most younger attendees at the forum and on Twitter was that all they heard was the same old tunes and that millennials are always sent to the "kiddie" table on social media to discuss important issues.
"This conversation and this panel just showed us that we need more unity in the Black community, and that we have to take an aggressive and proactive stance to make sure these things don't continue to happen," said Taylor.
"I think it's a challenge for millennials to participate in this process given some of the barriers put in front of us," said Shekira Dennis, Houston Justice Coalition co-founder. "We are very conscious thinkers and extremely proactive but it becomes difficult when people just limit us to social media."
Get Top Stories Delivered Weekly
More districtchronicles News Articles
Recent districtchronicles News Articles
Discuss This Article