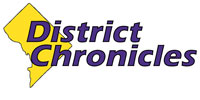 Post Classifieds
Lawyer uses GoFundMe effort to send Boko Haram girls to college
By Freddie Allen/Senior Washington Correspondent
On September 1, 2015
(NNPA) – As teenagers across the nation prepare to transition from high school to college, at least two of the survivors of last year's Boko Haram mass kidnapping hope to do the same – if they can raise the money.
Emmanuel Ogebe, a lawyer and human rights activist who worked to bring 10 of the Chibok, Nigeria girls who escaped to the United States, said that he was excited when he learned that some of the girls were accepted to college, but that the group sponsoring them doesn't have the resources to pay for it.
A few weeks ago, Ogebe launched a GoFundMe campaign, Bring Our Girls Back-To-School, to raise $75,000 for tuition, fees and living expenses for the girls. Some of the funds will also be used to help the girls who don't attend a four-year college to go to vocational school and learn life and social skills that will enable them to live in the U.S. independently.
On April 14, the same day that an explosion destroyed a bus depot on the outskirts of Abuja, killing at least seven and injuring more than 100, Boko Haram abducted nearly 300 schoolgirls as they studied for exams that night from the northeastern town of Chibok in Borno state.
The mass kidnapping sparked an international social media campaign under the hashtag #BringBackOurGirls. Little information about the girls' whereabouts has come out of the region since they disappeared with their captors into the bush more than a year ago.
Ogebe attended a meeting between some of the escaped Chibok schoolgirls and a small contingent of lawmakers that included Reps. Frederica Wilson (D-Fla.) and Lois Frankel (D-Fla.). He said that his heart began to break as he imagined the girls returning to their town after the meeting, still living under the threat and violence of Boko Haram.
So, the lawyer arranged to bring 10 of the girls to the United States, where they have now been living with host families for about a year.
During a July press conference about the missing schoolgirls, Rep. Wilson said that, according to her sources, Boko Haram militants are guarding the girls closely because they hope to use them as a bargaining chip.
"And until someone can show me a mass grave where are all of these girls are or show me one of the girls has been married off or have been killed, I will continue to believe that they are still alive," said Wilson.
She visited the region a year ago with a small contingent of lawmakers from the United States and met with some of the girls who had managed to escape. Wilson said that they were disappointed by the lack of progress in finding the girls and the absence of any real support for their families.
White House officials recently announced plans to work with Congress to provide $465 million in aid for training, equipment and capacity building to African nations to assist them in their counterterrorism efforts during the 2015-2016 fiscal year. The U.S. government also planned to increase support to Nigeria, Niger and Chad through youth and sports programs to boost social and civic engagement in areas besieged by Boko Haram.
According to Ogebe, the geography and tactics of the terror group pose incredible challenges to what the Nigerian military can do on its own.
Because the Sambisa Forest shares borders with several neighboring countries, Boko Haram is able to trek back and forth across international borders illegally, a travel pass not afforded to the Nigerian military.
"The military is limited by constraints that don't limit the terrorists," said Ogebe. "This is why the search requires a global coalition."
Going by her first name to protect family and friends still living in northeastern Nigeria, Lili, one of the rescued girls, said that going to school in the U.S. is safer because no one is threatening you.
"Going to school here is better than Nigeria, because here there is peace," said Lili, adding that she doesn't know when she'll return to Chibok.
Even though the fall semester will be underway in a matter of weeks, Ogebe said that he hopes to raise enough money so that the girls who got accepted into college can attend this semester.
Now that Boko Haram has pledged allegiance to the so-called Islamic State in Syria (ISIS), human rights advocates hope that stamping out the terror group that continues to ravage western Africa becomes an international priority.
"When it comes to global terror, Black lives matter, too," said Ogebe. "And we need to work to put this horrific group out of business."
For more information on the Bring Our Girls Back-To-School campaign, visit http://www.gofundme.com/rux936pg.
Get Top Stories Delivered Weekly
More districtchronicles News Articles
Recent districtchronicles News Articles
Discuss This Article