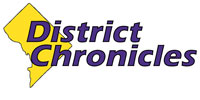 Post Classifieds
Black Chamber seeking fair return on Black auto spending
By Hazel Trice Edney
On September 7, 2015
(TriceEdneyWire.com) – This year alone, African Americans are projected to spend as much as $24 billion on new cars and other vehicles from America's auto industry. Yet research shows that, commensurate with their spending, Black consumers have little to show for their support of car dealerships.
A new agreement between the U.S. Black Chambers, Inc. (USBC) and the National Association of Minority Automobile Dealers (NAMAD) was established to start solving that problem.
The purpose of the Memorandum of Understanding (MOU), signed in late July, is to forge relationships with Black vendors and suppliers with hopes to "open millions of dollars of opportunity to Black businesses across the nation," according to Ron Busby, president and CEO of the USBC.
"The amount that African Americans spend on vehicles is inappropriately unequal as it relates back to the number of dealerships that we own as well as the amount of money that those particular brands market to the African-American consumer," said Busby. "And so what we hope that this does – this new relationship that we've established – is we want to showcase the power of the African-American dollar and recirculate that dollar so that our Black dealers can now increase the number of employees that they have working on their staffs."
NAMAD President Damon Lester says there's been a drastic decrease in Black-owned dealerships. There were only 252 at the end of 2014. That's down from a peak ownership of 795 in 2005, according to Lester, which is a 31 percent reduction in ownership in less than 10 years.
The USBC has researched several national industries to find ways to recirculate dollars back into Black businesses and the community at large. Last year, the organization focused on travel and tourism. The year before that, it was Black-owned banks.
However, the automobile industry is a special challenge given its comeback after nearly collapsing seven years ago. A multi-billion dollar government bailout largely saved the industry, but Black-owned dealerships have continued to struggle, having lost thousands of employees.
Marc Bland, vice president for diversity and inclusion for IHS Automotive, which provides statistics and information on the automobile industry among others, said the USBC has the right strategy to deal with the issues, not only as they pertain to the automobile industry, but others as well.
"Collectively, what they did is say, 'Hey, here's some information that says the African-American consumer is helping to drive a lot of growth in the U.S. auto industry.' Hyundai came and showed up, which is the initial action," said Bland. "They invited me to come out as a leader from IHS to provide some fact-based data; and together the three of us, along with Ron, had a conversation which provided awareness and proper education to the attendees.
"And then NAMAD took the additional step of signing the MOU which says that NAMAD is going to work with Ron Busby to collectively say how can we work together to identify potential growth opportunity for Black auto dealers. And then you have Hyundai, which says they're going to support the efforts as well."
Bland said African Americans represent about 8 percent of all new vehicles sold in the United States. By April of this year, Blacks had bought 373,901 vehicles, which, at a conservative $25,000 per vehicle could end up at $24 billion by the end of this year.
Another issue often discussed in USBC circles is the question of how to convince African-American consumers to support Black-owned businesses.
With an estimated spending power of $1.1 trillion, African-American economic power continues to grow exponentially. Yet the average African-American dollar only stays six hours within the Black community, according to a release from the USBC.
Busby, whose non-profit USBC has a membership of 240,000 Black-owned businesses and 115 chambers in 28 states, said he found it ironic that a recent Gallup poll revealed that Hispanic and Asian business-owners say they have not felt as much economic pressures as African Americans.
"They have not felt the discrimination or the challenge of being a minority as much as African Americans have," said Busby. "But yet we still have a very positive outlook for our future as business owners."
Get Top Stories Delivered Weekly
More districtchronicles News Articles
Recent districtchronicles News Articles
Discuss This Article