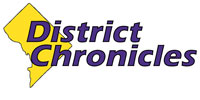 Post Classifieds
U.S. Attorney to probe police shooting of unarmed teenU.S. Attorney to probe police shooting of unarmed teen
By Terry Shropshire/Special to the NNPA from the Atlanta Daily World
On September 15, 2015
UNION CITY, Ga. – The acting U.S. attorney for the Northern District of Georgia announced he is launching a probe into the Union City police officer shooting of an unarmed and cuffed Black man who was reportedly lying on his stomach in 2011.
This comes, however, after a second Fulton County grand jury decided – again – not to indict officer Luther Lewis even though he shot teenager Ariston Waiters twice in the back.
"My son did nothing wrong, and he was shot like an animal," Freda Waiters told WSB-TV.
"They were very familiar about this case already and they will continue with the efforts and information our office has just given them," private investigator T.J. Ward said told the media.
The episode started in 2012 when Ariston Waiter allegedly began running after witnessing a fight just as police officers raced to the scene. The mother, Freda Waiters, has maintained it was unnecessary to shoot her son since he was incapacitated by the handcuffs and was lying on his back. Officer Lewis, however, has always claimed that the teen tried to turn over and reached for his gun.
The grand jury has sided with Lewis for a second time. Fulton County prosecutor had reopened the case when new evidence that was not revealed during the first grand jury hearing had become available. Unfortunately for the Waiter family, the time and effort proved futile as Lewis walked away unscathed, yet again.
The family, however, vows to continue fighting and seeking to unveil what they say is the complete truth.
"Ariston Waiters died senselessly, died violently and died at the hands of a rogue officer," family spokesman Marcus Coleman said, according to the television station.
"I just want the right thing done for my son. I want truth and the facts," said Freda Waiters.
Get Top Stories Delivered Weekly
More districtchronicles News Articles
Recent districtchronicles News Articles
Discuss This Article