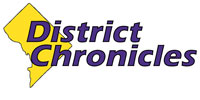 Post Classifieds
Faith, focus as foundation for business success
By Willie Jolley/NNPA Columnist
On September 15, 2015
With revenues in excess of $5 billion and more than 2,200 employees in 48 states and six countries, World Wide Technologies (WWT) has been exceptionally successful. For the past six years, WWT has ranked at the top of the Black Enterprise 100s list of the nation's largest Black-owned industrial and service companies. Fortune magazine also ranked WWT as one of the top 100 Places to work in America for three years in a row.
Founder and chairman, David L. Steward of St. Louis, Missouri, began his early career working at Federal Express (FedEx). He created his company in 1990, and it is now the leading supplier of advanced technologies for the federal government.
Steward has not had a cakewalk to success: he's gone through a car being repossessed and had to go months without getting his paycheck, but he refused to give up. He took risks and never stopping having faith in himself and in God.
Steward also created strategic alliances and attributes a great deal of his success to doing business with the Small Business Administration (SBA) through its 8(a) business development program. Steward stresses the importance of building relationships and partnerships with a level of trust, integrity and comfort.
The 8(a) program opened doors for him that he might not have been able to walk through alone. It helped him understand the unique government culture and assisted him with gaining subcontracting opportunities with the Department of Defense.
While WWT is recognized as one of the industry's fastest growing systems integrators, that is not what Steward talked about when he was inducted into the Horatio Alger Association, a group that honors the success stories of people who went from rags to riches. He spoke of how his faith in God was the secret to his success in business and life.
In his book, "Doing Business By The Good Book: 52 Lessons on Success Straight From The Bible," he shares his belief that he was put on earth to serve others. He sees his company as his pulpit to spread the impact and power of the Lord's word.
Here are powerful takeaways from my interview with Steward:
God expects your best and when you do your best, you will be blessed.
If you give your very best to others and seek to serve, good things will come your way.
Find joy, even throughout your challenges; it is through the challenges that we grow.
It is not easy to build a successful business and life, but as steel must go through the fire to become strong, so must people,
You must speak your dreams into existence.
Everyone has a measure of faith, but many people will not develop and use it.
Don't focus on the present circumstances; instead look at the possibilities.
Our decisions have consequences, so we must learn to make wise decisions.
Our brand is the trust level we bring to the marketplace, so we must represent excellence.
Put a stake in the ground as to whom you will be and what you will stand for, then take a stand on your values and stay true to them.
Willie Jolley is a singer, author, motivational speaker and radio host. He can be reached through his website: www.williejolley.com
Get Top Stories Delivered Weekly
More districtchronicles News Articles
Recent districtchronicles News Articles
Discuss This Article