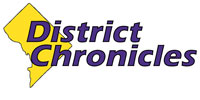 Post Classifieds
Randal Pinkett no longer an 'apprentice' to fortune making
By Willie Jolley/NNPA Columnist
On September 27, 2015
As someone who has pursued business ventures since he opened his first lemonade stand as a kid, Randal Pinkett's favorite television commercial growing up was from the financial firm, Smith Barney. It had a famous line, "We make money the old fashioned way; we earn it!" The underlying message was that while there are plenty of ways to make money, the admired way is to actually earn it.
And that tagline speaks to the work ethic of Pinkett, who was the first African-American winner of "The Apprentice" hosted by Donald Trump on Season No. 4. With an educational background in engineering and business, Pinkett is both a Rhodes Scholar and a Walter Byers Scholar, holding five earned academic degrees. His MBA and Ph.D. are from the Massachusetts Institute of Technology (MIT).
Before appearing on "The Apprentice," Pinkett had already established a career in business. He is considered a "serial entrepreneur," having founded his first company, MBS Enterprises – selling compact discs and cassettes out of his dormitory room in college.
From there, he went on to start and grow numerous businesses, then sell them and go on to his next venture. From his compact disc company, he moved on to start a business to improve the lives of high school students. This evolved into his second venture – a training and development company for emerging and seasoned professionals.
Next, there was the Inner City Consulting Group, where he helped small companies grow their profits and performance. From there, Pinkett co-founded Access One Corporation, with a mission to ensure that affordable housing was equipped for the 21st century by implementing innovative, sustainable broadband network and telecommunications solutions.
All of this lead to his current consulting business that he co-founded called BCT Partners. This is a multimillion-dollar, management, technology and policy consulting services firm. They work with corporations, government agencies and nonprofit organizations to improve organizational effectiveness and support strategies for change.
BCT Partners is a minority-owned and operated, federal 8(a), small business enterprise. He has been a stalwart for sharing the excellence that small minority-owned businesses can bring to the marketplace. BCT Partners have positioned themselves as one of the leading firms in the country with expertise in the areas of: housing and community development, economic development, education, government and human services.
Pinkett's belief in God has always been his source of strength and kept him grounded. He grew up attending St. James African Methodist Episcopal Church (A.M.E.) in Hightstown, New Jersey. When he returned from England as a Rhode Scholar, he joined the First Baptist Church of Lincoln Gardens, and later, First Baptist Church of Lincoln in Somerset, New Jersey, where Pinkett is an active member today.
He is the author of three books: "Campus CEO: The Student Entrepreneur's Guide to Launching a Multimillion-Dollar Business" (Kaplan Business 2007), "No-Money Down CEO: How to Start Your Dream Business with Little or No Cash" (Trump University 2008). He wrote "Black Faces in White Places: 10 Game-Changing Strategies to Achieve Success and Find Greatness" (AMACOM Books 2010) with his college roommate and business partner, Professor Jeffrey Robinson of the Rutgers Business School.
In addition to his business ventures, Pinkett speaks to corporations around the country, including Pepsi and Walgreens; universities such as Duke and the University of Virginia; government agencies, including the U.S. Small Business Administration, plus national conferences, including the Black Enterprise Entrepreneurs Conference.
Pinkett has signed radio and television commercial deals; served as spokesperson for Autism Speaks and made regular public appearances on behalf of Verizon to support their "Fiber Optics Services" (FiOS) services and their "Verizon Shotcaller Showdown" business plan competition for minority high school students around the country. Words of wisdom shared by Pinkett:
You must grow your courage. Courage makes you willing to take the first step. No first step, no ultimate success.
Don't be afraid to fail because failure and success go hand and hand. The cleaner "Formula 409" was named 409 because it was the company's 409th attempt. It happened after 408 failures.
Willie Jolley is the host of "Wealthy Ways" radio show on Sirius XM Satellite Radio. He can be reached through his website www.williejolley.com.
Get Top Stories Delivered Weekly
More districtchronicles News Articles
Recent districtchronicles News Articles
Discuss This Article