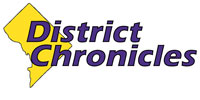 Post Classifieds
Citizens voice concerns with bus changes
By Sope Aluko/Howard University News Service
On September 27, 2015
Verdel Lee is suddenly very concerned about his job. Lee relies on the public bus every day to get him from Alexandria to work at the Dulles Greenway, a privately owned, 14-mile toll road that connects Washington Dulles International Airport with Leesburg, Virginia.
If Metro follows through with its plan to get rid of the Dulles Line bus, Lee said, he is unsure how he will make it to work at his normal early morning hours.
"Please," Lee told Washington Metro Area Transit Authorities officials last week, "reconsider what you are all doing."
Lee was among scores of other concerned and passionate metro-area bus riders who gathered at the 6:30 p.m. public hearing at the Metro headquarters on Sept. 17 to voice their concerns about proposed changes to the bus lines. The changes are scheduled to take place by early 2016.
During the hearing, led by James Hamre, director of Metro Bus Planning, and Mortimer Downey, chair of the WMATA, residents expressed their concerns and appealed to the Board as to why their neighborhood routes were vital to them with hopes of removing it from the agency's chopping block.
WMATA seeks to reduce or completely eliminate 30 routes in the District of Columbia, 21 in Maryland and 38 in Virginia before the end of the year.
Hamre told the audience members the hearing was their time to speak.
According to Metro's official website, the changes are normal and will eliminate routes that have low ridership numbers, cut down on routes where customers can take a different bus and remove routes that have not performed to standards.
There are also financial reasons. The elimination of the 5A bus, the one Lee and others ride, will save the system $2.3 million while halting the B8, B9 lines save $498,000, according to Metro officials.
Attendees spoke passionately against the elimination of the 5A, which services L'Enfant Plaza, Rosslyn, Herndon-Monroe Park-and-Ride and Dulles airport, and the B8 and B9 Fort Lincoln Shuttle, which goes to Colmar Manor/Fort Lincoln and Rhode Island Avenue.
According to WMATA statistics, ridership numbers have dropped on 5A by 100,000 annually since the opening of the Silver Line.
Patricia Seck, a Dulles Airport employee, works early morning and late night shifts and strongly disagreed with the claim of too low ridership numbers. Her bus is filled with many airport employees, as well as other everyday riders who depend on the 5A, she told officials.
"The fact of the matter is that in the evening, I can barely get a seat," said Seck. "The data really needs to be researched in terms of the ridership being down. I don't know these peoples' stories and they don't know mine. I see them when we are going to work and when we are coming back from work."
Seck said she doubted the proposed alternative, which will have riders using the Fairfax Connector Route 981 bus from the Wiehle-Reston East Metro Silver Line Station.
"I doubt very seriously that a person would ride the bus for an hour from Dulles airport into D.C., and then have another 30-minute ride, if they had another alternative to get to work," she said.
Residents also testified against the elimination of the B8 and B9 Fort Lincoln shuttle, whose elimination is due to low ridership numbers and duplication with other routes, Metro officials said.
Frances Penn, a D.C. resident, said she is certain the alternative option of residents using the H6 in Fort Lincoln will not be sufficient for the people that live in nearby neighborhoods.
"As we know, there are over 2,000 residents in Fort Lincoln, and they are building a whole new residence," said Penn. "The H6 cannot handle the crowd. The B8 and B9 are there for the kids. We have so many seniors that need help getting from point A to point B, and to eliminate the B8 and B9 would be a great disservice to us. When you start thinking about eliminating the B8 and B9, you are really taking the quality of life from the people that live in that area."
Get Top Stories Delivered Weekly
More districtchronicles News Articles
Recent districtchronicles News Articles
Discuss This Article