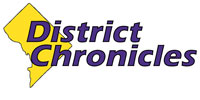 Post Classifieds
Race heats up for Maryland senate seat
By Briahnna Brown/Howard University News Service
On September 28, 2015
The Maryland Democratic primary for Sen. Barbara Mikulski's seat has been heating up since the state's ranking Democrat in Congress announced she would be retiring after 30 years in the Senate.
The race could result in the state's first Black senator.
Rep. Donna Edwards from Maryland's 4th District has been leading the polls since she entered the race a week after Mikulski announced her retirement.
However, popular Rep. Elijah Cummings from Maryland's 7th District has hired veteran Senate campaign fundraiser Ashley Martens, a strong sign that he will be joining the race this month.
If Cummings does enter, he and Edwards will have to beat Rep. Chris Van Hollen, a White candidate from Maryland's 8th District who has received some strong endorsements.
Despite leading in the polls, Edwards has a tough fight ahead of her, especially considering that Maryland has a history of electing White politicians over Black politicians for statewide offices.
Last year former Lt. Gov. Anthony Brown lost the gubernatorial race to Republican Larry Hogan in a state that rarely elects Republicans. In 2006, when Maryland held its last open Senate race, Kweisi Mfume lost in the Democratic primary to current Sen. Ben Cardin.
Lorenzo Morris, professor at Howard University and expert on Black politics, says Edwards made a "big mistake" by giving up her seat in the House to run for Senate.
"I can't imagine her winning," said Morris. "[Van Hollen] is a big figure with the Democratic Party nationally, and he's been popular with the Black community.
"However popular she is, she has a very limited constituency with her congressional district. The other people barely know her or don't know her, well, at all … I just don't think she has the active constituency that you need to launch a statewide campaign."
Morris also does not believe that Cummings should enter such a highly competitive race because "he would sacrifice the advantage he has in the Congress if he were to run." He noted that Cummings has the potential to become the first Black Speaker of the House.
Still, a poll commissioned by Cummings in March showed him ahead of the two declared Democratic candidates. If he were to enter and win the primary, Cummings, who is a household name in Baltimore, will need to win over the rest of the state. Considering Maryland's gubernatorial election giving a Republican its vote in a traditionally blue state, winning might not be so easy.
"When you get outside of Baltimore, into Montgomery County, there are some serious pockets of conservatism in Maryland," said Clarence Lusane, chair of Howard University's Political Science Department. "If Elijah Cummings runs, he's going to have to win over those populations who have not shown a whole lot of love for voting for Black people."
Get Top Stories Delivered Weekly
More districtchronicles News Articles
Recent districtchronicles News Articles
Discuss This Article