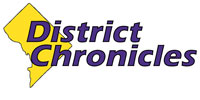 Post Classifieds
Review: 'The Black Panthers: Vanguard of the Revolution'
By Dwight Brown/NNPA Film Critic
On September 29, 2015
It was a sign of the times for Black life in the '60s. Police brutality. Poor housing. Few job opportunities. Little chance for higher education. The response to the oppression in the South was demonstrations, sit-ins and peaceful civil disobedience. The response that bubbled to the surface in Oakland, California, was sheer anger and defiance. As Stokely Carmichael put it, "You tell all the [W]hite people in Mississippi that the scared [N****s] are all dead." And so the evolution of the Black Panther Party began.
Spreading from Northern California to metropolitan areas across the nation, a movement was born. Something in the swagger of the Panthers, the high-self esteem, intelligence and physical appearance (berets, leather jackets and sunglasses) attracted young, disenfranchised African Americans. It's taken 40 years for the story of their grassroots social revolution to be told in a feature-length documentary. At the helm is veteran non-fiction filmmaker Stanley Nelson ("Jonestown: The Life and Death of Peoples Temple"). He and his crew are well up to the task of sharing this bit of history.
Jamal Joseph, former Black Panther, sets the stage: "You didn't walk down the street with the same sense of safety as a [W] hite person. Police beat you up and put a gun at your head on a daily basis." Elaine Brown a female ex-Panther concurs: "We couldn't unsee what we saw." Party founder Huey P. Newton explains the use of the panther as a symbol: "We used the Black Panther as our symbol because the nature of a panther doesn't strike anyone. When he's assailed, he'll back up first. But if the aggressor continues, he will strike out."
Ex-panthers, like Kathleen Cleaver, who are now senior citizens, narrate the proceedings adding background and personal anecdotes to visions of iconic Panthers like Newton (the visionary), Bobby Seale (the personality) and Eldridge Cleaver (the intellectual). The trio went through a metamorphosis, camaraderie to mistrust, rivals to enemies.
A barrage of interviews with police, FBI informants, journalists, historians, Latino and White supporters and plenty of detractors gives a full perspective on how that party, it's leaders, members and goals where perceived. Archival footage, TV appearances, photos, newspaper headlines, terse discussions, inspiring or inflammatory speeches from podiums at huge demonstrations … few stones are left unturned. In 1 hour and 53 minutes, what parades before your eyes is an historical montage that starts out like an old-school educational documentary, then adds on layers of facts, figures, recollections and shocking revelations that make you question how anyone lived through those times without being politically or socially involved.
The most eerie and unsettling subplot is the insidious, evil and dastardly machinations of the FBI, under the direction of J. Edgar Hoover. Encouraging local police to assassinate Panther members, planting informants in the party whose duplicity lead to murders, sending letters implying infidelities to spouses of party members, manipulating the relationships between Newton and Cleaver so they were at each other's throats. There was little they would not do to thwart any gains towards racial equality, which they saw as a threat to the government. If only half of the FBI dealings in this film are true, it makes you rethink the assassinations of Malcolm, JFK, RFK and MLK. Hoover's program "Counterintelligence Program Black Nationalist-Hate Groups" was right from the devil's playbook.
Whittling down what must have been countless hours of possibilities into a coherent film was done by director/producer/writer Stanley Nelson and editor Algernon Tunsil. The pacing starts off slow, and seems to build as the dramatic moments of the Panther's existence materialize. Then, like a decades old drama, that energy splinters and flickers out. The music (Tom Phillips) and sound (JT Takagi) are perfect effects.
Stick with this movie. It has a lot to say, a lot to reveal and is pertinent to today's testy police/civilian race relations. For four decades, possibly in a very imperfect way, some determined people sought to change the course of American history. Some lofty goals, such as dismantling capitalism, were not achieved. Some ideals, are now part of the fabric of the country, like breakfast programs for inner city kids.
Visit NNPA Film Critic Dwight Brown at DwightBrownInk.com.
Get Top Stories Delivered Weekly
More districtchronicles News Articles
Recent districtchronicles News Articles
Discuss This Article