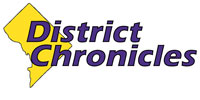 Post Classifieds
New program grooms Black boys for future leadership roles
By Tatyana Hopkins/Contributing Writer
On October 6, 2015
About 135 teenage boys from 10 Washington, D.C. public and charter schools last week filled the orchestra level of historic Howard Theater. They came to attend a Black male summit hosted by the Horace G. Dawson Scholars Program, a new non-profit organization dedicated to tackling the issue of Black male college attendance.
The organization is a tribute to the legacy of Ambassador Horace G. Dawson, who the boys knew little of. Throughout the summit, Dawson sat inconspicuously on the balcony level, looking down at the boys and quietly savoring the moment.
"Ambassador Dawson is not new to the task of inspiring and molding future leaders," Lawrence Kaggwa, Howard professor emeritus, told the future leaders. "Back in the 1960s and 1970s, Ambassador Dawson was a cultural and public affairs officer in several African countries. In 1979, President Jimmy Carter appointed him Ambassador to the Republic of Botswana."
That period coincided with the Independence Movement that liberated at least 17 African countries. As the colonial powers left the continent, Dawson saw a need to increase the number of African college graduates to lead the nation-building efforts. He oversaw several scholarship programs that created opportunities for more than 1,500 African students to study at American universities for free. Kaggwa was one of them.
Students Michael Moore and Kevin Jefferies are 17-year-old seniors at National Collegiate Preparatory Public Charter School who plan to attend college. Moore hopes to study psychology and sociology, while Jefferies would like to study environmental sciences.
Though too old to participate, the two teens see the benefit of the program for those younger than them. They believe the Ambassador Horace G. Dawson Scholars program would be helpful to the teenagers, as they themselves have found the college application process to be tedious.
Jefferies believes college is a must and that advanced degrees are the best way to secure a successful financial future.
"High school doesn't get you anywhere anymore," said Jefferies.
"College is not just about the financial aspect; it's about a personal aspect," said Moore, who believes college is a place where people can discover their true aspirations.
Leila Pray, founder and executive director of the program, hopes to mirror Dawson's efforts to support young students in their academic pursuits. This fall she plans to select 30 teenagers to participate in the program.
Participating scholars will be African-American students in D.C. Public Schools with a GPA of 3.0 or higher, though some slots will be reserved for at-risk students. The initial group of students will be selected from the 10th and 11th grades with the help of school administrators and interviews.
The intent of the program is to enrich the young men's middle through high school experience with personalized tutoring, standardized testing preparation, college preparatory workshops, mentoring and professional guidance through the college admission process.
Pray was inspired to develop an engaging college-prep program when her daughter, Joy Scott, began her college application process in 2011. Pray found that pairing Scott with professional counseling was necessary although she was a high achieving student. Overawed by the competitive nature and technologic features of today's college applications, she thought her own input as a parent was "dated."
Chosen scholars will also be provided workshops in public speaking, social etiquette, resume writing and financial aid. Each scholar will be paired with a mentor from the Mighty Men of Metropolitan AME Church based on their professional interests. The 100 Black Men and The Collegiate 100 will provide tutoring services in core subjects and the students will be supported through college.
Scott, a senior at Stanford University, is president of the Ambassador Dawson Scholars program. She recalls two factors that motivated her to get involved in grooming young Black males for future leadership roles.
She saw gender discrepancies in her own college preparatory program, College Advocate. In a message on the Ambassador Horace G. Dawson Scholar's website, she notes that participation in her program among the high-achieving minority students was overwhelmingly female.
"Surely, I knew males had similar resources as myself, but I wondered if a different approach would be more beneficial on their journey from high school to college," said Scott.
Get Top Stories Delivered Weekly
More districtchronicles News Articles
Recent districtchronicles News Articles
Discuss This Article