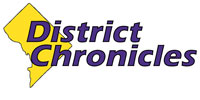 Post Classifieds
Mystics, Wizards get Ward 8 basketball arena
By Brelaun Douglas/Howard University News Service
On October 6, 2015
(WASHINGTON) – Just a few blocks from St. Elizabeths, a former mental hospital, a new day is coming.
According to city officials and civic leaders, the aged campus will be converted into a new state-of the-art arena for the Washington Mystics and a training facility for the Washington Wizards.
Mayor Mariel Bowser and Ward 8 Councilmember LaRuby May made the announcement last Wednesday to the applause of a crowd that included Mystics players Natasha Cloud, Stefanie Dolson and Emma Meeseman and Wizards players Bradley Beal and John Wall.
The facility is about more than just basketball, said Bowser. It's about change and growth for a community that desperately needs it.
"It brings me great pleasure as mayor to deliver that game changer which will allow us to attract other developments, other amenities and get those projects started too," said Bowser. "We're going to create 600 construction jobs and 300 permanent jobs."
Construction on the 5,000-seat arena is slated to begin in 2016 with a completion date of 2018. It will cost $55 million, with $23 million contributed from the city and the remainder from Events DC, the official convention and sports authority for the District of Columbia and Monumental Sports & Entertainment, the company that owns the teams.
Work training programs will be created to help prepare residents for the jobs and there will be internship programs to expose students to careers in sports, entertainment and hospitality, according to Bowser. The arena is expected to generate more than $4 million annually and a total of $90 million over the 19-year lease.
"We don't have a 5,000-seat arena in the city," said Bowser. "And so there is demand for shows ranging from concerts to children's programs where we can draw a 5,000-seat crowd without competing with some of our other arenas."
"This investment will help revive and renew southeast D.C. and bring new economic vitality to the community," said Mystics President and BET Co-founder Sheila Johnson. "We've seen it happen. Just look at the impact the Verizon Center has had on the Chinatown area. I know we can see it happen here too with jobs and growth."
Patricia Bobo, a Ward 8 resident since 1972, was ecstatic about the news.
"I think it's a good thing, because we are a portion of a city and we deserve to have everything that other parts of the city have in order to be a whole city," said Bobo. "This is a good start and I love it."
Jimmie Jenkins, another long-time Ward 8 resident, said he believes the arena will help to improve his community.
"Thank you Mayor Bowser and thank you Councilmember May for your leadership and for using my favorite sport, basketball, to bring more opportunities to my community," said Jenkins.
Get Top Stories Delivered Weekly
More districtchronicles News Articles
Recent districtchronicles News Articles
Discuss This Article