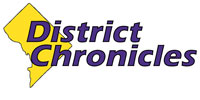 Post Classifieds
DCPS Chancellor gives upbeat schools address
By Sope Aluko/Howard University News Service
On October 12, 2015
Speaking to smattering of the tens of thousands of Washington school system's parents and teachers, District of Columbia Public Schools Chancellor Kaya Henderson gave an upbeat assessment of the system in her third annual "State of Schools" address last week, pointing to progress in graduation rates and teacher satisfaction.
Henderson, who addressed nearly 400 parents and teachers at Dunbar High School, noted reports that say graduation rates have risen to 64 percent in 2015, up from 53 percent in 2011.
The system still lags behind the national average of 81 percent, but Henderson said the kind of success the District needs will not happen overnight.
"One of the challenges that comes with leading DCPS from where it was to where it is, is that people want us to have instant success," said Henderson. "You don't get to the goal from jumping from where you are to where you want to be. Slow and steady progress wins the race."
News Channel 4 anchor Jim Vance acted as the moderator, offering questions for Henderson's response.
Henderson pointed to teacher satisfaction rates as a sign of success in the school system. Teacher satisfaction rates have increased from 63 percent to 80 percent between 2014 and 2015, she said.
"I think we are demonstrating a commitment in how we pay our teachers to how we recognize our teachers," she said. "We want DCPS to be where the best teachers come, but where they stay because they feel developed in their craft and respected as a part of our community."
Monica Rajan, a teacher at Stanton Elementary School in Southeast D.C, works for City Year – an education-based organization that helps at students stay on track to graduation. She said she feels appreciated working for DCPS.
"Events like this shows that higher-ups care about the opinions of students, faculty, and staff," said Rajan. "It helps me feel that we are all on the same page and just trying to help our students have a better future."
Henderson said she expects all students to achieve and be successful despite the huge gaps in wealth that plague the city.
"In this Metro area, there are some of the largest wealth gaps," she said. "So, it is no surprise there are some of the largest achievement gaps. School is one of the best opportunities to close that gap."
She pointed to Dunbar, named after poet, novelist, and playwright Paul Laurence Dunbar, as an example of achievement beyond economic station.
"There is this narrative that young people who are poor don't have the resources needed to achieve," she said Henderson. "Dunbar teaches us that when we did not have textbooks that others did, we still held people to high expectations. Our young people still graduated and went out to change the world."
Henderson also responded to questions of principal and teacher retention. Vance noted that one in four D.C. public schools got a new principal at the beginning of the year and DCPS hired 750 new teachers, replacing 500 just this year.
"There is a paradigm where everyone works and stays where they are," responded Henderson. "That's not always the case. We have had a number of people who go on to other jobs, some have been promoted or we told them that DCPS was not the right fit for them."
Henderson said the school keeps the vast majority of the teachers it wants to retain, and is working on ways to keep more principals, including the Mary J. Patterson Fellowship, an intense 18-month leadership training program specifically meant for principals.
"We tap our own high-performing principals and put them through a rigorous training program that teaches them what principal preparation programs don't," said Henderson. "It teaches them about teacher retention … how to support their staff and the DCPS way to excellence. We hold principals accountable."
Henderson said she is pleased with the changes in the district under her tenure.
"The citizens can say they have a school district that if not already worthy of them, is on its way to be, and that people loved working in DCPS," she said.
Get Top Stories Delivered Weekly
More districtchronicles News Articles
Recent districtchronicles News Articles
Discuss This Article