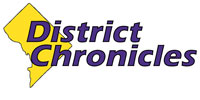 Post Classifieds
Which had greater impact – Million March, O.J. Simpson
By Eric Easter /Urban News Service
On October 12, 2015
This month, the nation will recognize the 20th anniversary of two cultural touch points, but in very different ways.
On October 10, the Million Man March will be both celebrated as a milestone on the road to fairness and justice, then refashioned anew to capture a new generation of activists and a new generation of issues. The new march will be covered live, tweeted, Facebooked and analyzed for days, as the old one will be thrust into perspective on how far, or not, Black America has progressed since.
Meanwhile, a California jury's decision to acquit Orenthal James "O.J." Simpson of the murder of his ex-wife Nicole Brown Simpson and Ronald Goldman, and the resulting tempest it caused, was just a blip on the radar of the news cycle on its anniversary last Saturday. It will be seen for what it was: a media circus that captured the nation with a highly controversial outcome.
Yet, of those two events that took place within a two-week period in 1995, it is the latter that had the most lasting and significant impact on American politics and culture, both good and bad.
For all its "Trial of the Century" hoopla and celebrity salaciousness, the Simpson trial and verdict became a powerful symbol for race, justice and fairness in America – even if the person embodying that symbol was undeserving of the pedestal on which he stood.
After decades of cases, from the Foxboro Boys to Emmett Till, Black people had deep memories of trumped up charges, homegrown "justice" without juries and the guilty gone free, especially when the victim was Black and powerless. That Simpson. was being vilified before being found guilty got to the heart of what Black America had always suspected: That, no matter how wealthy, connected and powerful you were as a Black man, you would never be fully accepted, especially when you were up against a wall.
By contrast, the Million Man March, which was regarded broadly as successful in tone and spirit, is glass-encased as a moment to remember – but its results are tougher to quantify.
According to historian and writer William Jelani Cobb: "We could trace a direct line from that case to the modern sense among whites that they are the primary victims of racial discrimination, and the enmity of the Obama era. Certainly, we don't see contrition and atonement as major themes in Black politics currently. The affirmative action debate in California was likely shaped or at least influenced by the post-O.J. racial climate. It would be hard to point to legislative or social impact from the Million Man March."
On some level, as a case that unfolded on television, Simpson's trial could be seen as the spark that more greatly attuned Black America to the workings of the justice system. If the Rodney King verdict left people confused, the Simpson trial provided every small detail, turning Americans into armchair attorneys and analysts. From Trayvon Martin and Michael Brown to Freddie Gray, Black people have grown highly sophisticated in vague issues of case law and, more importantly, their rights.
Oddly enough, the two events are interconnected. The call for the Million Man March was fueled by tension from the trial and the sense that justice was also on trial. Later, what was reported to be lackluster planned attendance to the march was kick-started in large part by the verdict and a renewed sense that, Black people could fight authority and win, if only temporarily. So much so that there was high anticipation that both lawyer Johnnie Cochran and Simpson might attend.
As Cobb recalls: "At the march, they were passing out a poll asking people who they thought were the most the effective Black leaders. The poll included the usual suspects – and Johnny Cochran."
Get Top Stories Delivered Weekly
More districtchronicles News Articles
Recent districtchronicles News Articles
Discuss This Article