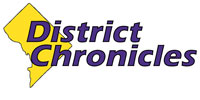 Post Classifieds
Leaders in tech industry discuss digital diversity
By Courtne Dixon/Howard University News Service
On October 25, 2015
As hundreds of educators and industry leaders from across America gathered in Washington last month for the 2015 National Historically Black Colleges and Universities Week Conference, one of the topics of discussion was the lack of diversity in the burgeoning field of technology.
They only needed to look at the numbers to know there is a problem.
According to the U.S. Bureau of Labor Statistics, th e American workforce is 47 percent female, 16 percent Hispanic, 12 percent Black. At tech companies like Google and eBay, African Americans and Hispanics make up just 2 percent of the workforce, and only a smattering of the tech employees are women.
Remington Holt, a senior at Howard University, has seen the situation up close during his past two summers as an intern at Google.
"There was not a lot of diversity at my particular office," said Holt, who wrote code and developed software. "I was the only person of African-American descent out of 15 people. There were five women. Diversity in tech is incredibly poor."
Google and other technology companies have said they hope to reverse the tide of diversity in technology, as did representatives from companies last week during a workshop on the subject at the annual HBCU conference.
Lisa Lee, senior diversity manager at music streaming company Pandora, said having a more inclusive work force is in the best interest of the companies.
"Tons of research shows that diverse teams produce better results," said Lee.
The panelists from Walmart, Uber and eBay also agreed with her assessment.
"If you look at the data it is pretty clear that we are not getting the results that we want, and I think most of the companies would say the same thing in the Valley and other tech companies around the country," said Ben-Saba Hasan, senior vice president chief culture, diversity and inclusion officer for Walmart. "So, you have to accept the fact that there is something systemic going on."
The companies proposed various strategies to rectify the problem.
Solutions included technology internships for non-technology majors, partnering with Historically Black Colleges and Universities and considering nontraditional candidates for internships.
Kelly Minton, chief information officer for communications and engagement strategy at eBay, told the group about Yearup, a Boston-based nonprofit that works to offer more opportunities for disadvantaged workers.
"At Yearup, they train young adults from underserved communities, mostly minorities, in entry level tech jobs and then they place them at Silicon Valley companies like Facebook and Ebay for another six months," said Minton. "If the internship goes well, they will hire them. Out of 70 plus interns, we hired about 35 of them."
The panelist agreed that much of the culture of Silicon Valley is founded on meritocracy, in which the best idea wins. This ideology has largely been responsible for keeping the status quo, according to Damien Hooper-Campbell, the global leader for diversity and inclusion at Uber, the ride-share company that employees residents using their own cars.
"At Uber, we talk about best idea wins, which sounds really good," said Hooper-Campbell. "You know meritocracy. But part of the conversion we are getting into is, 'Yes best ideas win, but are you sure you have all the best ideas in the room.'
"We all know when you refer somebody from your network nine times out of 10, they come from the same place you come from and in many cases look like you," he continued.
"We have to correct for that and one of the ways we say best ideas win, let's say we have all the best ideas at the table first, and as you can look across the industry I don't believe we have all the best ideas."
Get Top Stories Delivered Weekly
More districtchronicles News Articles
Recent districtchronicles News Articles
Discuss This Article