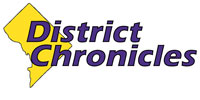 Post Classifieds
D.C. principal Jessica Cunningham gets a Milken educator award
Metro Brief
On October 19, 2015
The principal, teachers, staff and students at KIPP DC College Prep thought the morning assembly was to official open the renovated high school. But the Milken Family Foundation Chairman Lowell Milken had a different idea. He stole the show with a $25,000 award to honor Principal Jessica Cunningham.
Like everybody at the assembly, Cunningham was shocked, but happy to win one of this year's Milken Educator Award.
For the next six months, in up to 40 schools around the U.S., outstanding middle and high school educators will be given the surprise of a lifetime when they receive a Milken Educator Award and an unrestricted cash prize of $25,000 before cheering students, respected colleagues, distinguished officials and the media during a boisterous assembly.
Milken said that Cunningham, who is the first recipient of the 2015-16 school year, is a special principal.
"Jessica has been identified as one of KIPP's top educators," said Milken. "She is a teacher leader who takes very seriously her mission to ensure her students are prepared to compete in high school, college and, ultimately, the workplace."
"To put it in sports terms, Jessica Cunningham is our franchise quarterback or our closer," said KIPP Founder and CEO Susan Schaeffler. "She not only leads and prepares our high school students for college, but she also inspires our entire KIPP DC region to care more and do more because of her excellence. She knows that our students' futures depend on what we do today and she is in it for the kids, with the kids, year after year."
Success in the classroom and natural leadership ability led Cunningham to become the principal of KIPP DC College Preparatory in 2012. KIPP Prep is now the highest-performing open-enrollment high school in Washington, DC.
The school boasts DC Comprehensive Assessment System (CAS) proficiency rates that increased by 19 points in math and reading during her tenure, with 20 percent of students enrolled in the special education program. In 2014, the school posted a math proficiency rate of 95 percent and a reading proficiency rate of 71 percent. The graduation rate is 99 percent and the college matriculation rate is 89 percent for 2013 and 2014.
Cunningham, whose mother was a teacher, is respected by students for telling them the truth, holding them accountable and suggesting helpful practices to correct their mistakes. She identifies with them and likes to provide opportunities for the students, many from challenging backgrounds, to make a fresh start. They see her as someone they aspire to be.
Cunningham has been a part of the KIPP system for 11 years. She started out as a teacher and then became the founding principal of KIPP DC Will Academy – the third KIPP middle school to be established in the District. Will Academy had the highest overall growth of all DC charter schools in 2009-2010.
As an Aspen Scholar, Cunningham is a role model to her fellow educators. She develops curriculum and delivers professional development as part of the KIPP Foundation's School Leadership Program. She informally mentors several school leaders around the country and coaches KIPP national administrators. The Milken Educator Awards, which was launched by the Milken Family Foundation in 1987, has been described as "the Oscars of teaching" by Teacher magazine. Recipients are selected in early to mid-career for what they have achieved and for the promise of what they will accomplish. Many have gone on to earn advanced degrees and be placed in prominent posts and on state and national education committees.
This year, MFF is launching a #MyTeacherRocks Instagram campaign that encourages students to take selfies with their favorite teacher and describe in the caption why their teacher is special. To enter the contest, entrants are asked to follow @milkenfamilyfdn on Instagram, post their selfie to their individual account and use the #MyTeacherRocks and #MilkenAward hashtags. The three photos with the most "likes" will be selected in November 2015, and February and April 2016. The winners will each receive $500 for their classroom.
Get Top Stories Delivered Weekly
More districtchronicles News Articles
Recent districtchronicles News Articles
Discuss This Article