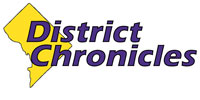 Post Classifieds
The value of wise counsel
By Willie Jolley
On October 25, 2015
Proverbs 11:14 teaches that there is safety in the multitude of wise counselors. As you work on your dreams and goals, seek out wise counsel.
One of the wisest counselors to ever impact my life is Dennis Kimbro. He is one of the top experts on wealth creation in the world, and is also the leading authority on how to "Choose To Be Wealthy!" Professor Kimbro is the author of the best-selling books, "Think & Grow Rich: A Black Choice" and "What Makes the Great Great."
I'm pleased that Kimbro is a long-time friend and powerful mentor. When my first book, "It Only Takes a Minute to Change Your Life" was being launched, I knew nothing about promoting and marketing books. I sought out Kimbro – who was already a best-selling author.
Professor Kimbro graciously took my call. His sage advice helped my first book become a national and international bestseller. He advised me to see myself in my mind's eye – where I wanted to be in the future.
"Brother Willie," said Kimbro, "You must first think the thought before you can manifest it in your life. Keep in mind that it is first the inner, then the outer; first the thought, then the thing!"
His success manual, "The Wealth Choice: Success Secrets Of Black Millionaires," is based on a seven-year study of 1,000 of the wealthiest African Americans. The book offers great insight on climbing the economic ladder – even when the odds appear to be stacked against you.
Through stories, Kimbro reveals how business leaders, entrepreneurs, and celebrities such as T.D. Jakes, Bob Johnson and Spike Lee developed a wealth-generating mindset. He presents what they did and didn't learn about money early on and how they had to sacrifice to get to the top, spotlights the power of discipline in managing their success, and describes how they took calculated risks when opportunities presented themselves. Here are Kimbro's laws of wealth:
Wealth begins in the mind but ends in the purse. The average millionaire reads a book each week. If you do not read, you do not grow.
You must decide that you will not be poor. Until you make the choice to change, you will settle for the circumstances around you.
Believe in yourself even when no one else does. You must have faith in yourself and in a God who will never leave you or forsake you. This is the difference that makes the big difference.
To thine own self be true. What is your unique gifting? What do you love to do? What is your area of excellence? What is your area of unfair competitive advantage?
Focus on keeping score on what is truly important. The poor keep score with cars and clothes, the middle class keep score with degrees and titles, and the wealthy keep score by their bank account.
Service and sales are the keys to creating wealth. Always look for ways to serve people, and then look for opportunities to sell what you serve.
Own your own business. No matter what you do, you are in business for yourself. Create a reputation for excellence, whether you work for yourself or work for someone else. Become the CEO of Y.O.U. Inc.
Make your money grow. Save at least 10 percent of what you earn, and invest it. Be a disciplined saver and a disciplined investor. You will see your money grow ... guaranteed!
The books you read and the people you hang out with will determine who you will be and what you will be in terms of your wealth.
It takes courage to become a person of wealth, so work on your thinking and work on yourself; decide and commit and you will grow your wealth.
Willie Jolley is host of the "Willie Jolly Show" on Sirius XM Satellite Radio and the opening speaker on the national "Get Motivated Business Seminar Tour."
Get Top Stories Delivered Weekly
More districtchronicles News Articles
Recent districtchronicles News Articles
Discuss This Article