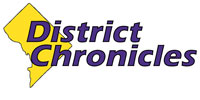 Post Classifieds
Prison phones calls rip off Black families
By Curtis Bunn/Urban News Service
On October 25, 2015
Garry Lawrence's family worried about paying his legal fees. But phoning him in prison nearly bankrupted them.
When Garry was arrested almost seven years ago on a minor drug offense, his loved ones knew that paying a lawyer to argue his case would be a major expense. They were astounded and nearly financially crippled, however, by what it cost simply to speak with him by phone while he was locked up.
"I thought it was an honest error when I first began accepting calls and received my bill," said Rafael Lawrence, Garry's brother, a San Jose, California, mental-health counselor. "But it wasn't honest. And it wasn't an error. The rates were out of this world. So, with the attorney fees and the phone calls … well, let's just say we struggled as a family ... This whole thing is … a racket."
Two 10-minute calls a week could add up to about $100 a month, said Rafael. In six years, he estimated that he spent more than $7,000 on phone calls.
The Lawrences are one family among millions in the United States who are calling for the Federal Communications Commission to regulate a prison phone system that has become its own cottage industry. The country's prison phone system generates $1.2 billion a year.
"It's bad enough to have someone you care about in prison," said Rafael "You want to keep them connected to the outside world, and then you get your phone bill, and it's like paying a car note. It's crazy.
Before 1996, costs for calls inside prison were comparable to regular phone rates on the outside. That year, two private telecommunications companies started providing the service to prisons, and rates catapulted.
"It's the biggest rip-off in the country," said Robert Woodson, who runs the Center for Neighborhood Enterprise, a Washington, D.C. non-profit that works extensively with former inmates. "It's an outrage. So many low-income families are impacted by the prison system, and these companies know the only way the imprisoned stay sane is to talk to family. Outrageous. Can you imagine how many people $1.2 billion a year represents? It's astonishing the number of people hurt by this rip off."
With fees, phone charges for a call from prison or jail go for as high as $1.22 per minute. By comparison, the average commercial rate is 4 cents a minute – less than 1/30th of the price behind bars. In the technological dead zone that is supposed to exist in jails and prisons, inmates have resorted to using "contraband cellphones," smuggled in by visitors and presumably bribed corrections officers.
In Georgia, the nation's fourth-largest state prison system reported that more than 13,500 phones were confiscated, which is about one for every five inmates. But they are not cheap ($1,000 and up), and being caught with them can trigger major repercussions.
The FCC is centering its investigation on $460 million in fees that these phone companies paid to state and local prison systems over the last two years in exchange for their exclusive contracts.
Inmate families and advocacy groups hope the FCC will rule this year to minimize concession fees and limit the costs of prison phone calls. The expenses are lawful, although a jury once called them "criminally high."
"I mentor a few young men in prison and I had to post $50 on my credit card and was charged $9 to even post my credit card, then $1.70 to connect my call, and then 70 cents a minute. It's crazy," said Woodson.
An FCC analysis indicated that these concession fees "have caused inmates and their friends and families to subsidize (for prisons and jails) everything from inmate welfare to salaries and benefits, states' general revenue funds and personnel training." This report added, "Companies compete not based on price or service quality, but on the size of the commission."
The telecommunications companies recently have made attractive acquisition targets. Global Tel-Link was sold in 2011 for $1 billion to American Securities LLC. Securus Technologies went for $640 million in 2013 to ABRY Partners.
Global Tel-Link announced that it reached a record high 215 million prison calls totaling $3 billion in minutes-revenue in 2014. ABRY said it completed the most calls in its history at Christmas 2014.
Neither Global Tel-Link nor Securus Technologies returned calls seeking comment for this article.
Get Top Stories Delivered Weekly
More districtchronicles News Articles
Recent districtchronicles News Articles
Discuss This Article