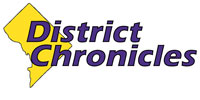 Post Classifieds
GOP Bengazi tactics make Clinton look better
By George E. Curry
On November 8, 2015
The House Republicans' Benghazi hearing was a barely-concealed attempt to further lower Hillary Clinton's poll numbers. However, their strategy backfired as the televised hearing became an 11-hour infomercial in her favor.
Instead of becoming a weakened opponent, Clinton emerged stronger than ever after the announcement that Vice President Joe Biden will not make a third run for the White House. Time after time, she demonstrated her mastery of foreign policy and proved that she could remain calm under constant badgering and inane questioning by Republicans on the panel.
Instead of seeking answers to questions, more often than not the GOP panel members would divulge what they thought the former Secretary of State was thinking, or share their far-fetched "theory" about what was transpiring.
Rep. Elijah Cummings (D-Md.), the ranking member of the panel, said the special committee had one goal: damage the presidential candidacy of Clinton.
"As we all know, Rep. Kevin McCarthy, Speaker [John] Boehner's second in command and the chairman's close friend, admitted that they established the select committee to drive down Secretary Clinton's poll numbers. Democrats didn't say that. The second in command in the House said that, a Republican," said Cummings.
"Republican Congressman Richard Hanna said the Select Committee was, quote, 'designed – designed to go after Secretary Clinton.' And one of the chairman's own, hand-picked investigators, a self- proclaimed conservative Republican, charged that he was fired in part for not going along with these plans to, quote, 'hyper-focus on Hillary Clinton,'" he continued.
GOP panel members were so focused on trying to discredit Clinton that they appeared to rely heavily on theory and personal opinion because there were no new facts to add.
In fact, they went over many of the same questions Clinton had answered when she testified before the committee earlier.
"For instance, Clinton had already answered questions about who handled requests for increased security at Benghazi prior to the 2012 attacks," reported Media Matters for America. "She had already answered questions about why, in the days following the attacks, she had – like the intelligence community and eyewitnesses on the ground – discussed the anti-Muslim video that sparked worldwide protests and which the alleged terrorists themselves cited as a motivation. And she had already explained that the compound in Benghazi was a 'temporary' facility, and thus not under the normal regulations for more typical consulates and embassies."
The media ultimately denounced the hearing as being fruitless.
"The pointless grilling of Mrs. Clinton, who fielded a barrage of questions that have long been answered and settled, served only to embarrass the Republican lawmakers who have spent millions of dollars on a political crusade," stated The New York Times.
"The House Select Committee on Benghazi further discredited itself on Thursday as its Republican members attempted to fuel largely insubstantial suspicions about Hillary Clinton's role in the 2012 Benghazi attacks. Grilling Ms. Clinton all day, they elicited little new information and offered little hope that their inquiry would find anything significant that seven previous investigations didn't," said a Washington Post editorial.
By the time the hearing wrapped up, the only new thing to be learned was that there are no limits on how low Republicans will sink to score political points – at a cost of nearly $5 million and counting.
George E. Curry is President and CEO of George Curry Media, LLC. He can be reached at georgecurry.com.
Get Top Stories Delivered Weekly
More districtchronicles News Articles
Recent districtchronicles News Articles
Discuss This Article