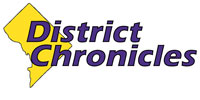 Post Classifieds
'Shape up King' brings barbershop to your door
By Janelle Berry/Howard University News Service
On November 8, 2015
When people walk past the black cargo truck with the huge storefront window and "SHAPE-UP KING" printed on the front and sides, they stop and stare. They even take pictures.
What has their attention is the man inside, Emmanuel "E-Man" Azoro, also known as the "Shape-Up King" – the charismatic, part-salesman, full-time barber and the man behind what is apparently the first mobile barbershop in the nation's capital.
Azoro, 37, travels the streets of Washington in his customized vehicle setting up shop and taking on customers wherever he can. Today, Azoro, who also owns a brick and mortar shop in Prince George's County, is set up on the campus of Howard University and passersby are watching him through his display windows.
His first customer on this particular day is Marvin Uzoho, 21, a Howard senior from Bowie, Maryland, who heard about the "Shape-Up King" from a fellow student and decided to give the barber a try. He asked for a $25 haircut and beard shape-up, sat in the chair wearing an all-black sweat suit and a colorful pair of Nike Roshe Runs, and let the King get to work.
As Azoro began work on Uzoho's hair, he chatted up his first two clients of the day about music and school, while the curious complimented him on the vehicle's interior. One gawker pulled out his phone, called up a friend and raved about the amazing mobile barbershop.
After Uzoho, Richard Ryles of West Palm Beach, Florida, took a seat in the chair. Ryles, 19, had seen the truck before.
"I saw him outside one day cutting," he said. "I saw his pictures when he gave me his card. I saw his pictures on Instagram, and it was hot. So I came in here and got one myself."
After Azoro finished, Ryles checked out his new cut in a hand mirror and gave his approval. Azoro said that is the reaction that makes being a barber enjoyable.
Azoro said he has been a barber for 20 years and two years ago opened a shop Prince George's County Plaza Mall.
When Azoro was young, his parents couldn't afford getting their children haircuts to the point where he and his brother got teased in school. So, he began cutting his younger brother's hair and eventually began cutting other kids hair, charging them $3. Soon, the school football team and even teachers were coming to him, he said.
He began working at 15 in a barber shop in Hyattsville, and continued at various locations until he could get his own store.
"Having a store, you have to pretty much ride for this one location," said Azoro, sitting in his barber chair and for the next client. "As a barber, waiting on customers, you miss out on a lot of life.
"With this truck, you can go to fun events; do things; meet new people; go to all kinds of things like homecomings, and you're enjoying your life while you're making money and building your clientele and promoting where you work. You can do it as you want, when you want. There's no real schedule."
Azoro's truck is equipped with one barber chair, mirrored ceilings, spinning barber poles, a tiny sunroof, tile flooring and magazines. Hip-hop music blared through the truck while two customers waited for their turn in the chair. Pedestrians – young and old – walked by, snappin pictures and taking fliers and business cards.
Azoro said he added the storefront window so his potential customers can see him in action.
"With heavy foot traffic, you need to be exposed and displayed," he said. "A lot of people like the art of how a barber looks cutting hair."
"Even though I have over 2,000 clients right now," he continued, "I'm still hungry and try to go out and get more clients."
Get Top Stories Delivered Weekly
More districtchronicles News Articles
Recent districtchronicles News Articles
Discuss This Article