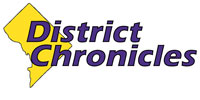 Post Classifieds
Baltimore warrior responds to rise in street violence
By Hazel Trice Edney
On November 22, 2015
(TriceEdneyWire.com) – Baltimore Mayor Stephanie Rawlings-Blake gave a blank stare when she was asked if she was familiar with the Baltimore-based group called 300 Men March.
"That's like asking me if I've heard of the Baltimore Orioles. I'm from Baltimore. I get it," she retorted.
As indicated by the mayor's response, this group of men, known for patrolling Baltimore streets as a display of positive force and responsible manhood, have made quite a name for themselves. But financial support for the group appears stagnant despite rising homicide rates across the country.
"You certainly get a whole lot of activity from people when it comes to police brutality – every time something goes on with the police and the Black man," said the group's founder and president, Munir Bahar.
"Yet, there's not enough support and involvement on a day-to-day basis of men of color especially, but all men around the country with regards to community violence."
The surge in national homicide statistics has been well-documented by local and national media. This week, a heart-breaking national news story focuses on the Chicago police investigation of the multiple shooting of 9-year-old Tyshawn Lee. The boy, killed Nov. 2, while walking through an alley near his grandmother's house, is believed to have been the target in a feud involving one or more of his relatives.
The indiscriminate killings of Black people –babies, children, teens and adults – is a scenario that has become all too common, said Bahar.
At this writing, in Baltimore, the count has long surpassed 235 – well more than last year's total of 211; in Chicago, it's now more than 300, 20 percent up from the 244 all of last year. It's the same story in cities across the country. For example, in Washington, D.C., homicides are up 36 percent; New Orleans, up 19 percent; St. Louis, up 60 percent; and Detroit, up 50 percent since last year.
And despite a season of decline during the past decade, the numbers have continued to mount for years. In fact, since 1975, when the Federal Bureau of Investigation first began keeping homicide statistics, the combined national numbers of street homicide deaths surpass a half million. That's enough to populate several entire cities.
As the protests and outrage over the killings of Black men and women by police officers continue around the country, this one group of Black men – 300 Men March – have decided that African-American street violence against each other is what they are called to fight. Winning the respect of their peers, they have proven to be a different kind of warrior.
To make that point nationally, Bahar, in August, led about 50 men in a march all the way from Baltimore, 35 miles south to Washington, D.C.
"We wanted to take this straight to our capital, straight to the doorsteps of our president under the banner of the My Brother's Keeper Initiative," said Bahar, 35.
But, of course, it's not that simple. Though he hopes to establish 300 men strong over the next five years, Bahar said they currently have about 60 faithful participants.
"We have a large amount of Black men who are literally sitting aside watching our race be destroyed from the inside. Guys who would rather go to happy hour at an all-white party, or a cocktail party or a whatever party than to spend that time mentoring some young people in this city," he said.
Bahar's nearly 12-year-old non-profit organization, COR Health Institute, which birthed the 300 vision two years ago, mentors young men in fitness, martial arts, and health programs. On the streets, the 300 Men March is symbolic of the small group of warriors in the movie, 300, who "went up against an army that everybody thought they would lose," described Bahar.
The 300 men have inspired many, including Mayor Rawlings-Blake, and the National Bankers Association have helped raise funds for their mission.
Other community leaders have also expressed support.
Civil rights activist the Rev. Jamal-Harrison Bryant, pastor of Baltimore's Empowerment Temple, said some of his male members are a part of the group, which he describes as "redefining what Black male imaging looks like ... for Black men to stand and let their voices be heard, this is so significant when we've had more than 237 homicides in Baltimore and they are overwhelming majority Black males."
Get Top Stories Delivered Weekly
More districtchronicles News Articles
Recent districtchronicles News Articles
Discuss This Article