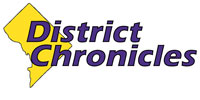 Post Classifieds
Todd holds special meeting to address seniors issues
By Sope Aluko/Howard University News Service
On November 22, 2015
City Councilman Brandon Todd told over 300 senior citizens from his ward that they are his top priority and he will work to improve their quality of life and to support the District's "age friendly" plan, during a speech last week at the Riggs-LaSalle Community Center.
In a 15 minute-speech, Todd, who so far is running unopposed in 2016 to retain his newly-won Ward 4 seat, told the audience that the elderly community is to be cherished for making the District of Columbia the place it is today.
"I realize the importance of ensuring that the people who have worked so hard to make Washington a great city to work and play in, have that city to support them in their golden years with no worries," he said.
Dozens of members from the District's agencies were on hand to talk with seniors about their concerns.
The councilman said health care, particularly the ability of seniors to stay in their homes rather than going to nursing homes, would be a priority.
"To age in place and stay in your homes, you will need to ensure you can manage your well-being, health and strength," said Todd. "I will work to ensure our government continues to fund programs that will provide you with resources you need."
Among the councilman's list of priorities, he said, is safety. He said the elderly community are often the most targeted and vulnerable victims, not only facing the risk of physical harm, but are also victims of financial fraud.
Todd said he and other members of the city council are trying to combat such fraud by passing the "Financial Exploitation of Vulnerable Amendment Act of 2015," which will make it a crime to take money from a senior citizen by intimidation or manipulation. According to Wells Fargo, senior citizens lose up to $2.9 billion annually due to financial exploitation.
Ebony Robinson, an assistant Attorney General in Neighborhood and Victim Services Section in the D.C. Office of the Attorney General, said she has heard many sad stories of elderly who have been victimized in their own homes.
"Many of them have told me their sons, grandsons or some other person has been doing something illegal in their homes, without their knowledge," said Robinson.
Senior citizens are often taken advantage of in their living spaces, said Delores Anderson, the education and outreach coordinator for the DC Office for Tenant Advocacy, which assists residents with tenant/landlord issues.
She said that often, the elderly just want to "make do" with the inadequate living conditions.
"We want them to understand that they have rights as tenants and that they are protected," said Anderson. "We don't want to see them living in squalor."
Veronica Tolliver, a Petworth resident for 40 years said while there has been improvement in recreational facilities for seniors, more needs to be done.
"Sometimes, we are told we are going get certain things, but it doesn't happen," said Tolliver, a member of the Emery Energizers, a woman's exercise group she created with her friends. "At the end of the day, I think on a 1 to 10 scale, it's a seven."
Seniors in attendance said they are already proud of the neighborhoods in Ward 4 and are excited for what Todd will be working on over the next few years to continue to help them age in place.
They said they are grateful for the special attention the councilman is showing the elderly by holding a special meeting for them.
"I've been living here for a while and have never experienced an event like this," said Kathy Ayala, who has been living in Ward 4 since 1969. "I have seen so many improvements. I am so proud to live here."
Get Top Stories Delivered Weekly
More districtchronicles News Articles
Recent districtchronicles News Articles
Discuss This Article