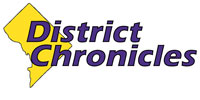 Post Classifieds
Blacks and poor want EPA to address environmental racism
By Special from Earth Justice to George Curry Media
On November 22, 2015
TALLASSEE, Ala. – The first thing you notice is the vultures, said Ronald Smith.
They roost everywhere in his hometown – on neighbors' houses, in the trees, in front yards – lured by the putrid smell of 65 acres of rotting garbage.
"You walk out of the house and you're hit with that odor, you come home and you're hit with that odor again," he said.
Smith, 63, is a pastor and one of a new generation of activists in Tallassee, Alabama (population 4,800). In the 1990s, his parents, Ann and Thomas, protested the state's decision to open and later expand a massive landfill in the heart of their historically African-American neighborhood. Smith got involved in 1999 and has reinvigorated the movement.
Huge trucks speed down tiny rural roads. Residents worry about air and water pollution from decaying waste. Smith said the landfill has gobbled up acreage from Black homeowners who have died or moved away, further eroding community wealth and security.
Under Title VI of the Civil Rights Act of 1964, agencies that get federal money can't discriminate on the basis of race. Discrimination doesn't have to be intentional; it includes any decision that has an unjustified, unequal impact or disparate on a particular racial group. One state agency that draws from federal coffers is the Alabama Department of Environmental Management (ADEM), which gave a permit to the owners of Stone's Throw to operate the landfill.
Communities saddled with undue pollution have just one option: file a complaint with the EPA, which the Smiths and their neighbors did. Should the EPA find discrimination, it could withhold money from ADEM until the department forces Stone's Throw to clean up its act.
Agency rules say the EPA must determine whether there's discrimination within 180 days of receiving a complaint. Residents of Tallassee have been waiting 12 years.
Earthjustice recently sued the EPA for failing to investigate whether the landfill in Tallassee violates residents' civil rights. As part of the same lawsuit, Earthjustice is also fighting on behalf of communities in Flint, Michigan; Pittsburg, California; Beaumont, Texas; and Chaves County, New Mexico, where EPA discrimination complaints have languished for as long as two decades.
A scathing report from NBC and the Center for Public Integrity shows that these delays are far from exceptional. The report found the EPA's Office of Civil Rights takes one year on average to address complaints and that in the office's 22-year history of reviewing nearly 300 complaints, the agency has never made a single finding of a civil rights violation. Nine in every 10 complaints are rejected or dismissed.
One type of industrial facility rivals all the rest for a truly vile community experience: controlled animal feeding operations, better known as factory farms. Factory-scale pig farms housing thousands of animals dot the landscape of southeastern North Carolina where slaves historically worked on tobacco plantations and where large populations of Black residents remain.
Farmers flush gallons of hog feces and urine into open pits lined only with clay and then spray the "liquid manure" onto nearby fields. The waste leaches out of the open pits and flows as run-off from the fields, polluting nearby waterways. When it's sprayed, the fecal matter also drifts as mist onto neighboring homes, clinging to hair and clothes and forcing residents indoors.
"People can't have cook-outs, or sit out on their porch, or invite friends over or hang laundry outside because of the odors and the flies that follow these operations," said Gray Jernigan, staff attorney at the Waterkeeper Alliance, one of the organizations partnering with North Carolina residents to fight the impacts of factory farms.
Studies at the University of North Carolina, Chapel Hill confirm that counties with larger non-white populations are home to more factory farm-raised hogs and that living near an industrial hog farm can lead to eye irritation, nausea, breathing troubles, high blood pressure and exposure to antibiotic-resistant bacteria from fecal waste caused by the hogs' steady diet of low-dose antibiotics.
With the help of Earthjustice and other groups, residents filed a complaint with the EPA arguing that the state's general permit, which allows more than 2,000 factory hog farms to operate in the area, doesn't do enough to protect human health and the environment.
Get Top Stories Delivered Weekly
More districtchronicles News Articles
Recent districtchronicles News Articles
Discuss This Article