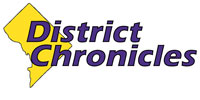 Post Classifieds
New law establishes renters' property tax relief
Metro Brief
On December 1, 2015
The Prince George's County Council, during the final Council session for Legislative Year 2015 last week, unanimously approved CB-95-2015 legislation establishing a Renters' Property Tax Relief Supplement for qualifying County residents.
Council Member Dannielle M. Glaros of District 3, proposer of the legislation, said CB-95 will provide additional financial assistance for low-income renters.
"With the passage of CB-95, renters who are most in need will have an opportunity to apply for a county tax supplement. Residents eligible for the Maryland Renters' Tax Credit, which is available to those 60 and older or 100 percent disabled based on income, can receive an additional 50 percent of their state tax credit in the form of a county supplement. I urge all Prince George's County residents to share this information with their family, friends and neighbors." said Glaros.
Council Member Todd M. Turner of District 4, co-proposer of the legislation, said CB-95 offers additional financial relief for low-income renters, which is especially important for the county's senior and disabled residents who may live on a fixed income.
"Residents who qualify for the State's Renters' Tax Credit Program, are already stretched very thin financially," said Turner. "With the adoption of CB-95-2015 today, and CB-59-2015 earlier this month, the County Council continues to provide additional relief and tools for our residents, especially seniors, to maintain their residency in the county."
Under the legislation, Prince George's County will pay a Renters' Property Tax Relief Supplement to each resident who qualifies to receive a payment under the state property tax relief program. The county supplement will be 50 percent of the State payment made to the resident.
Get Top Stories Delivered Weekly
More districtchronicles News Articles
Recent districtchronicles News Articles
Discuss This Article