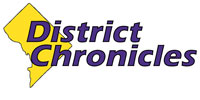 Post Classifieds
Preacher challenges churches to march voters to polls
By Special to Trice Edney News Wire from Richmond Free Press
On December 1, 2015
(TriceEdneyWire.com) – "This is no time for foolishness," said the Rev. William J. Barber II in an energizing message at the Richmond, Virginia, branch of the NAACP's Freedom Fund Awards Gala.
Barber urged the audience of about 300 people to fight against inequities in Virginia as they have with Moral Monday demonstrations in North Carolina: by "mobilizing and marching our voters to the polls" and protesting the General Assembly's refusal to expand Medicaid health care to hundred of thousands of uninsured Virginians
Calling the 20 ministers in attendance to the foot of the stage, he challenged them to plan "the first civil disobedience" to push Virginia to expand Medicaid.
"In such a time in this country where the Constitution says there is equal protection under the law, too many people are sniffing Koch – what's being put out by the conservative Koch brothers – and are drunk on the poison of the Tea Party," said Dr. Barber.
The 52-year-old pastor and president of the North Carolina NAACP is also on the national NAACP board. He has worked tirelessly, though unsuccessfully, against rollbacks in voting rights in North Carolina that affect African Americans and communities of color.
Barber feels that the NAACP has a mission to educate people about the inequities and injustices perpetrated in communities across the South, including inequitable funding for education, a lack of health care for all, unfairness in the criminal justice system and policies such as refusing to raise the minimum wage that are anti-labor and anti-poor people.
While African Americans are disproportionately affected in many cases, large numbers of White people are also harmed by the decades-long strategies designed to pit the two races against each other.
"It's more than the Republican Party," said Barber. "It's extremists. The Democrats don't do what they should when they have the power. And the Republicans do what they shouldn't when they get the power.
"When race trumps common sense, it's no time for foolishness."
Get Top Stories Delivered Weekly
More districtchronicles News Articles
Recent districtchronicles News Articles
Discuss This Article