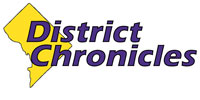 Post Classifieds
Protests force Howard to pay marching band
By Chevelle Taylor/Howard University News Service
On December 1, 2015
The Howard University SHOWTIME marching band, which made national news when it protested against the university during a football game because of the school's failure to honor members' financial aid, has finally been made whole, band members said.
The band wore all black during an Oct. 31, game against Savannah State University and explained to the crowd during halftime why it was not dressed in its normal colorful SHOWTIME uniforms.
"As a band, we decided to wear all black for the lack of a budget – more specifically scholarships for the band program – and to shed light on the lack of financial support for the student body," a band member told the crowd. "Until the university addresses these issues, we will not support this university with our musicianship."
Later during the game, the band refused to perform. The story made news on local websites, television stations and with BET cable television's national audience.
The following Monday, band members silently gathered with their instruments in an administrative building. Following the national and local embarrassment, the band members received the money they were promised, they said.
"After our silent protest, that Friday we got our scholarships," said La'Vonne Tynes, a senior band member. "They did not assure us that this wouldn't happen in the future, because it's unsure where the money will come from in the future. However, the current band members want to keep working with the administration to ensure the longevity of our band."
Band members said the nature of their original protest has transformed.
"Our initial platform was about our scholarships," said Marcus Prince, a senior band member, "but it transformed into the transparency that the university doesn't have with the student body. We just need the university to be transparent. They can't talk about everything, but the things that directly affect us, as far as finances go, we need them to be more transparent about."
Terrell Tiendrebeogo, also a senior band member, said band members are uncertain about funding in the future.
"The unsure funding could be detrimental to the band going forward, because it will hurt our numbers," said Tiendrebeogo. "In today's world, where college is getting more and more expensive, we have to compete with other schools to recruit freshmen. A scholarship could be the difference between a freshmen coming here or going to other schools."
"Funding is a pressing issue for the band because there are a lot of expenses associated with the band that not everyone realizes, such as instruments and uniform repair, uniform cleaning, travel, meals."
Get Top Stories Delivered Weekly
More districtchronicles News Articles
Recent districtchronicles News Articles
Discuss This Article