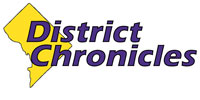 Post Classifieds
Pepco makes $50,000 donation to build STEM workforce
Metro Brief
On December 3, 2015
Pepco Holdings, Inc. is making a $50,000 donation to the Montgomery College Foundation that will establish a new scholarship fund at the college.
The Pepco ACES Scholarship supports students participating in the Achieving Collegiate Excellence and Success (ACES) program who are studying for science, technology, engineering and mathematics (STEM) careers and demonstrate financial need. ACES is a long-term academic success and support program for students who are most often underrepresented in college classrooms, as well as those who would be the first in their family to attend college.
Through its corporate giving in 2014, Pepco Holdings donated about $5.3 million to more than 900 charities and nonprofit organizations. Youth and education is one of six pillars of the company's charitable giving, which also include business initiatives and workforce development; social, health, safety and emergency services; environment and energy; civic engagement; and arts and culture.
"Pepco has long recognized how important it is that the opportunity for a college education is accessible to all members of our community," said Debbie Jarvis, vice president, corporate citizenship and social responsibility, for Pepco Holdings. "We are excited that for years to come, this scholarship will help students with financial need to have the resources they need to earn their college degrees and pursue promising careers."
Launched in 2013, the ACES program is a collaborative effort between Montgomery College, Montgomery County Public Schools, and The Universities at Shady Grove to support students and provide a seamless path to a bachelor's degree. Scholarships are an essential component of the support services that enable ACES students to succeed once they reach college. During the 2014-15 academic year, the Montgomery College Foundation awarded $243,990 in designated ACES scholarships to 144 students with financial need, thanks to the generosity of area businesses, foundations, and individuals.
"Pepco clearly recognizes the value of a college degree both in improving lives and strengthening our economy," said Montgomery College President Dr. DeRionne P. Pollard. "We deeply appreciate their generous donation and thoughtful investment in our students' success."
To learn more about the Pepco ACES Scholarship or other opportunities to support Montgomery College students, contact Carol Rognrud, executive director of the Montgomery College Foundation at 240.567.7493 or carol.rognrud@montgomerycollege.edu.
Get Top Stories Delivered Weekly
More districtchronicles News Articles
Recent districtchronicles News Articles
Discuss This Article