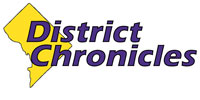 Post Classifieds
County hosts forum on ending obesity
Metro Brief
On December 3, 2015
The public is invited to a free forum, Ending Obesity in Montgomery County: Understanding the Problem and Creating Solutions," on Wednesday, Dec. 9, from 9 a.m. to 4:30 p.m. at the Agricultural History Farm Park in Derwood. The forum is sponsored by the Healthy Montgomery Eat Well Be Active Partnership.
The Healthy Montgomery Eat Well Be Active Partnership is one of several work groups formed through Healthy Montgomery, the County's Community Health Improvement Process. Partnership members include representatives from Montgomery County government agencies and public schools, hospitals in Montgomery County, local non-profit and service providers, health care providers, academic institutions, insurance payers and community members. The mission of the Eat Well Be Active Partnership is to promote health equity by increasing opportunities for all.
Montgomery County residents to lead healthy, active lives. The Partnership works to accomplish its mission by rallying community resources and by using and evaluating strategies that work to support healthy eating and active lifestyles. Healthy Montgomery was launched in 2009 and is an ongoing effort that brings together a broad range of individuals representing county government agencies, the six community hospitals, minority health programs/initiatives, advocacy groups, academic institutions, community-based service providers and the health insurance community to develop action plans to improve the health and well-being of all Montgomery County residents, especially groups most at risk for poor health.
Organizations participating in the panel discussion include the Montgomery County Food Council; Kaiser Permanente; the Women, Infants and Children (WIC) Program; the Montgomery County Planning Department; Montgomery County Public Schools; CCI Health and Wellness Centers; the Montgomery County Department of Recreation and Unity Health Care Health Center: Upper Cardozo.
The Agricultural History Farm Park is located at 18410 Muncaster Road in Derwood. Register for the forum at http://endingobesity.eventbrite.com.
For more information, call Linda Goldsholl at 240.777.1701.
Get Top Stories Delivered Weekly
More districtchronicles News Articles
Recent districtchronicles News Articles
Discuss This Article