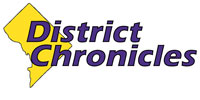 Post Classifieds
'Justice or Else' spawns boycott Christmas, not Jesus campaign
By Charlene Muhammad/Special to NNPA through the Final Call
On December 3, 2015
Mobilization has increased for the national campaign to Boycott Christmas, Not Jesus, a movement spanning from Black Friday, Nov. 27, through January 1.
It is the first action implemented out of Justice or Else, the 20th Anniversary of the Million Man March. Approximately 1.4 million people joined the Honorable Minister Louis Farrakhan on the National Mall on Oct. 10, to commemorate the historic 1995 gathering.
Now they're working to redistribute the pain Blacks have suffered under White supremacy, which plays out in areas like police brutality, mass incarceration and unemployment.
Reasons for the two-pronged call to Boycott Christmas and redirect holiday and general spending dollars to Black and Indigenous businesses were highlighted during the California State University Long Beach Black Student Union's 36th Annual Black Consciousness Conference.
Christmas is supposed to be a time of love, joy and giving in honor of the birth of Jesus Christ, but from the inception of so-called holidays in America, Black and Indigenous people have suffered atrocities. It's all been a trick, said Student Minister Nuri Muhammad of Muhammad Mosque #74 in Indianapolis.
"I read about Jesus and 12 disciples. I never read about Santa and nine reindeer. Matthew, Mark, Luke, John … Well, where did Donner and Blitzer and Comet and Cupid and Rudolph and them come from? This is paganism," said Nuri Muhammad during a panel.
He urged listeners to take responsibility and action to help forge a change in their communities and the world. For any looking for a place to start, Boycott Christmas, he offered.
"We've got to Boycott Christmas this year. We're saying 'Up with Jesus! Down with Santa! This year, we're saying that if you can't give no justice to us, then we can't give no profits to you! If you won't stop, then we won't shop," continued Muhammad.
Dr. Umar Abdullah-Johnson, nationally certified school psychologist and banquet keynote speaker for the conference, talked about Boycott Christmas in the context of the origin and Blackness of God, the divinity of Blacks and how to redirect the Black dollar.
He is currently fundraising to acquire and rehabilitate property to open his own school, the Frederick Douglas-Marcus Garvey Academy, and said it's shameful what's happening with Black children in schools, especially since Blacks have the means to do something about the problem.
"We're the richest group of Africans on the face of the earth, the 10th richest nation on the globe, and we don't have an infrastructure," said Abdullah-Johnson. "Where's your hospital at? Where's your distribution network? Where's your independent schools? Where's your airplanes?"
Muhammad encouraged those who think Blacks aren't ready to Boycott Christmas or that hitting the system in the pocket won't work to look at what happened in Missouri. Black students at the University of Missouri united and forced the recent resignations of university president Tim Wolfe and the university chancellor after complaining about racism at the school for years.
"When people were out there talking about president resign, didn't nobody move. When Brother Jonathan Butler was out there on a hunger strike, they didn't budge, but the minute that those 25 football players said, 'You know what, we're not going to practice or play,' they pulled their calculator out and said wait a minute, $35 million could be lost. The president and chancellor quit in 36 hours," said Nuri Muhammad.
He continued, "If the Mizzou football players plus economic withdrawal equals the president resigning, if Black people employed economic withdrawal, maybe we could make White supremacy resign."
Get Top Stories Delivered Weekly
More districtchronicles News Articles
Recent districtchronicles News Articles
Discuss This Article