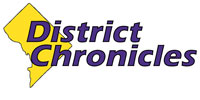 Post Classifieds
Norton secures federal funding for DC transit, roads
Metro Brief
On December 18, 2015
Congresswoman Eleanor Holmes Norton (D-DC) is ecstatic about the five-year transportation reauthorization bill the House of Representatives passed last week.
The Fixing America's Surface Transportation (FAST) Act provides the District of Columbia with an additional $193.5 million in transit formula funding and an additional $75 million in highway formula funding in addition to current funding.
In her floor remarks, Norton used D.C.'s H Street Bridge as a symbol of what the FAST Act will do not only for transportation and infrastructure, but also for economic development. The act provides money that can be used for the H Street Bridge, which leads to every form of transportation.
The DC Streetcar, intercity and WMATA buses, cars, bikes and pedestrians all use the H Street Bridge. It also leads to Metrorail, Amtrak, MARC, VRE and freight trains, as well as to federal highways I-395 and Route 50.
For the first time, the FAST Act provides major funding for freight trains and includes new funds for improvements in the Northeast corridor for passenger rail and freight nationwide. According to Norton, this long-term bill will allow for planning of the major expansion of Union Station to proceed, including for major economic development above the track.
The FAST Act had bipartisan and bicameral support and was the product of months of negotiation by Norton and other leaders of the Conference Committee. At $281 billion from the Highway Trust Fund, the bill provides nearly $13 billion more than the one originally passed in the House. Additionally, it includes $24 billion from the General Fund for Transit New Starts, Amtrak and intercity passenger rail grants.
The increase resulted from a request made by Norton and several other Conferees to reduce the authorization's duration from six years to five years. Norton said that the tradeoff was unfortunate, considering that the FAST Act is the first long-term surface transportation authorization in 10 years. However, she said that reducing the duration of the authorization was the only way to get increased funding for states and D.C., which are starving for new funds, from the Republican-controlled House and Senate.
"I thank my partners in this bill, Transportation and Infrastructure Committee Chairman Bill Schuster (R-PA), Ranking Member Peter DeFazio (D-OR), and Subcommittee Chairman Sam Graves (R-MO) for engaging in a truly bipartisan process," said Norton. "Because of a willingness of all concerned to compromise, the FAST Act got over the finish line."
Get Top Stories Delivered Weekly
More districtchronicles News Articles
Recent districtchronicles News Articles
Discuss This Article