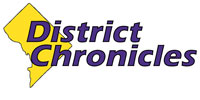 Post Classifieds
Council Chair Davis: County schools need much work
Metro Brief
On December 29, 2015
County schools need much work, said new Prince George's County Council Chairman Derrick L Davis (District 6) in a statement on the state of the county school system, a week after his election, Davis said that educating county children to compete in a global economy remains a critical element to the success of Prince George's County.
"While the recent results of the Partnership for Assessment of Readiness for College and Careers (PARCC) indicate some progress in the performance of our schools, test scores also highlight the fact there is still much work ahead," said Davis. "If Prince George's County is to become the economic powerhouse we all desire, our education system must be first rate and remain a top priority for all of us."
Targeting the areas of improving student achievement, school construction, maintenance of schools, and vocational education; this council fully supports our county's public schools – including funding operational, formula and construction spending – within available county resources, said Davis.
"As the county's fiscal stewards, the council also looks forward to the outcome of the external Continuous Improvement Performance Audit of Prince George's County Public Schools, the first in 18 years," said Davis. "This study will provide performance oversight over multiple facets of the school system which the county funds in its annual budget process, and offer another critical barometer for progress as we continue our work together to build the foundation for the world-class school system our students deserve."
Get Top Stories Delivered Weekly
More districtchronicles News Articles
Recent districtchronicles News Articles
Discuss This Article