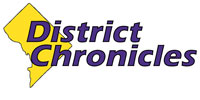 Post Classifieds
Scalia's racist view of Black students worrisome
By George E. Curry/Editor-in-Chief/George Curry Media
On December 29, 2015
Supreme Court Justice Antonin Scalia's view that students of color are better matched at "a less advanced ... slower track" schools than at the nation's top-tier universities is a myth that has been thoroughly debunked.
Scalia touched off a firestorm last week as the Supreme Court heard oral arguments in Fisher v. University of Texas-Austin, a case brought by a rejected White student challenging the university's affirmative action program.
The university selects 75 percent of its freshmen class (some years it has been as much as 92 percent) through a process that guarantees admission to the top 10 percent of each high school graduating class. The remaining students are chosen through an individualized affirmative action program that considers such factors as demonstrated leadership qualities, extracurricular activities, honors and awards, essays, work experience, community service, and special circumstances such as applicant's socioeconomic status, family composition, special family responsibilities, socioeconomic status of applicant's high school and race.
Even though to points are assigned to any category, Abigail Fisher decided to sue on the basis of race, saying the consideration of race violated the Equal Protection Clause of the 14th Amendment. However, the university said she would not have been accepted even if no affirmative action program were in place.
Scalia said, "There are there are those who contend that it does not benefit African Americans to – to get them into the University of Texas where they do not do well, as opposed to having them go to a less-advanced school, a less – a slower-track school where they do well. One of – one of the briefs pointed out that – that most of the – most of the Black scientists in this country don't come from schools like the University of Texas. They come from lesser schools where they do not feel that they're – that they're being pushed ahead in – in classes that are too – too fast for them."
Scalia, who was appointed to the Supreme Court in 1986 by Ronald Reagan, shifted from the "some people" straw argument to express his deeply personal view, which many public figures have since condemned as blatantly racist.
He said, "I'm just not impressed by the fact that – that the University of Texas may have fewer. Maybe it ought to have fewer. And maybe some – you know, when you take more, the number of blacks, really competent blacks admitted to lesser schools, turns out to be less. And – and, I – I don't think it – it, it stands to reason that it's a good thing for the University of Texas to admit as many blacks as possible."
To his credit, Gregory G. Garre, one of the attorneys representing the University of Texas, immediately challenged the core of Scalia's argument.
He replied, " … If you look at the academic performance of holistic minority admits versus the top 10 percent admits, over time, they – they fare better. And, frankly, I don't think the solution to the problems with student body diversity can be to set up a system in which not only are minorities going to separate schools, they're going to inferior schools ... "
Al Sharpton told supporters on the steps of the Supreme Court after the oral arguments, "Scalia says Blacks ought to go to schools that are not as hard as the University of Texas, that is not as fast for them. I didn't know if I was in the Supreme Court or at a Donald Trump rally."
Matthew Chingos, a scholar at the Urban Institute, noted"[Scalia's] remarks reference the so-called 'mismatch hypothesis,' which posits that minority students are harmed by policies that allow them to attend competitive colleges for which they lack adequate academic preparation.
"Mismatch is possible in theory, but it presents an empirical question as to whether selective colleges admit students who would be better off at less challenging institutions," said Chingos. "Straightforward comparisons of students with similar academic credentials who attended different colleges consistently find that students are more likely to graduate from more selective institutions."
A group of 11 experts in quantitative social science filed a brief urging to the court to ignore the mismatch theory because it "does not constitute credible evidence that affirmative action practices are harmful to minorities." In short, they said, the research "is not good social science."
A friend-of-the-court brief filed in support of the University of Texas on behalf of 39 undergraduate and graduate student organizations in California thoroughly discredited Scalia's position.
Get Top Stories Delivered Weekly
More districtchronicles News Articles
Recent districtchronicles News Articles
Discuss This Article