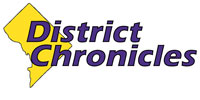 Post Classifieds
Kwanzaa comes early for Coyaba Dancers, fans
By Janelle Berry/Howard University News Service
On December 29, 2015
Kwanzaa 2015 celebrations begin Saturday, Dec. 26, but the Coyaba Dance Theater and Academy couldn't wait. They and special guests put on a show of Kwanzaa celebration through spectacular drumming, dancing, singing, acting and spoken word last weekend at Dance Place in Brookland, D.C.
More than 140 people, from toddlers to elders, got a peek of Kwanzaa, a week-long celebration in America and the African diaspora, which starts December 26 to January 1. The celebration, first observed in 1966 to 1967, honors African heritage and African American culture.
Director Sylvia Soumah started the Coyaba Dance Theater in 1997. Its mission is to "present traditional and contemporary West African dance and music focusing on the diverse ethnic groups and various humanitarian themes of West African culture."
Shanae Adams, 24, came from Denver to watch her friends perform, but also because of her love for the holiday.
"I loved the show; it was awesome," said Adams. "I enjoy West African dance since I lived in Rwanda for a year and I was exposed to a lot, especially the culture. So, I started to celebrate Kwanzaa as well."
Kwanzaa is celebrated over seven days, each day showcasing one of seven principles: Umoja (Unity), Kuichagulia (Self-Determination), Ujima (Collective Work and Responsibility), Ujamaa (Cooperative Economics), Nia (Purpose), Kuumba (Creativity) and Imani (Faith). Each principle stands to help African Americans unify and reconnect with their African cultural and historical heritage.
Last Saturday's extravaganza sought to portray each of those principles.
The first performance began with the stage lit blue and a woman beating a talking drum with a man telling a "tale of the twisted stick" about a magical snake and village leader. The tale focused on two of the main principles of Kwanzaa: striving and maintaining unity in the family, community, nation and race (umoja), and building and maintaining the community to make everyone solve their problems together (ujima).
In the middle of the story, five dancers dressed in all white broke out into an interpretive West African dance with smiles on their faces and the stage lit red as men drummed in front of a painted background of a red sunset and bare trees.
The storyteller returned to conclude the story with audience interaction. At the end of the story, 30 little girls in grass skirts stepped on the stage with a few women dressed in different patterns and colors, dancing fluidly to the drums.
The next performance began with several young girls with drums and large wooden sticks, dancing to the drums six older women in kente cloth.
Dimmed lights showing a projection of African Americans who died at the hands of the police such as Eric Garner, Trayvon Martin and Tamir Rice opened the second half of the show to the tune of Hip-hop artist Kendrick Lamar's "Alright."
The screen also projected images of protests against police brutality that occurred around the nation throughout the year. Silence filled the theater as two teenage girls separately performed spoken word, focusing on what it means to be Black in America and the American justice system.
Interpretive dancing by the men, women and children of Coyaba celebrated each other's differences, representing the principle of Umoja.
Sunmolu Hamilton, a 2008 member of the Coyaba Dance Theater and Academy, came to watch her daughter dance for the academy and to reminisce on the dances she once had to perform.
"It was a good show," said Hamilton, 32, from Washington, D.C. "I really enjoyed it. I've done those dances in the past and I like that it's so communal and familiar. To see the things that I've done even down to the costumes; it's very moving."
Soumah was ecstatic, too. As director of Dance Place, she'd prepared for the show since October a day each week.
"I believe in the seven principles of Kwanza and live them every day," said Soumah. "Kwanzaa is not commercial because you have to make things instead of buying gifts. It's about faith and family. I wanted to make the community aware of what Kwanzaa really is."
Get Top Stories Delivered Weekly
More districtchronicles News Articles
Recent districtchronicles News Articles
Discuss This Article