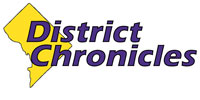 Post Classifieds
Muhammad Ali, local Muslim leaders take on Trump
By Janelle Berry/Howard University News Service
On December 29, 2015
GOP presidential nominee candidate Donald Trump thinks the ultimate solution to keeping the United States safe from ISIS-sponsored terrorism is banning all Muslims from entering the country. His admirers think so, too.
But boxing icon Muhammad Ali and D.C. Muslim leaders are dismayed at Trump's proposal and are calling on Muslims to stand up to those who use Islam to advance their political agenda.
"I am a Muslim, and there is nothing Islamic about killing innocent people in Paris, San Bernardino or anywhere else in the world," said Ali in a statement he issued to the press last week.
"True Muslims know the ruthless violence of so-called Islamic Jihadists goes against the very tenets of our religion. We, as Muslims, have to stand up to those who use Islam to advance their own personal agenda.
"They have alienated many from learning about Islam. True Muslims know or should know that it goes against our religion to try and force Islam on anybody. I believe that our political leaders should use their position to bring understanding about the religion of Islam and clarify that these misguided murderers have perverted people's views on what Islam really is."
Born Cassius Clay, Ali converted to Islam and changed his name in 1964.
Since the recent global terrorism attacks in Paris and San Bernardino, Ca., the Muslim community in America is being targeted just as they once were after the Sep. 11, 2001, terrorist attacks on the World Trade Center and the Pentagon, which struck fear in the nation, according to Muslims across the nation.
"Donald J. Trump is calling for a total and complete shutdown of Muslims entering the United States until our country's representatives can figure out what the hell is going on," said Trump at a political rally in North Carolina last week.
Sheikh (an Islamic scholar) Mohamed Abdullahi, imam at the Muslim Community Center in DC, shares Ali's worries that Islamic Jihadist terrorists have perverted many people's understanding of Islam as a religion and its tenets.
"If you kill one innocent, it's like you're killing everyone," said Abdullahi. "That's a core value in Islamic faith and to be truthful and be just and fair.
The Islamic State of Iraq and Syria (ISIS) claimed responsibility for the Paris bombing that killed at least 130 people in November and the San Bernardino attacks that killed 14 people on Dec. 2. The Muslim community has been under fire since the terrorists involved in these mass killings were Muslims. Just like not all Christians are terrorists because a mass killer is a Christian, not all Muslims are terrorists because those responsible for terrorist attacks are Muslims.
Abdullahi is urging Trump and his admirers to learn more about Islam.
"Trump is not realistic," said Abdullahi. "He needs to read more if he's running for the position of being the president, and he needs to do his homework first. The U.S. is the most diverse country in the world, and it would not be in the best interest of the country to ban Muslims."
Abdullahi rejects the idea that extremists and fanatics, people who hate others because of their faith, know anything about Islam or practice it like true Muslims. He believes that in regards to Trump's proposal, it is time for Muslims to speak out against the discrimination they have faced in the U.S. for over a decade.
"Now is the time to come out of our comfort zones," said Abdullahi. "We need to speak loudly, regardless of faith, race, color; it doesn't matter. Now is the time."
Ibrahim Hooper, director and spokesperson for the Coalition of Islamic Relations, also agrees with Ali. He also condemned ISIS, calling it anti-Islam. He added that Muslims worldwide reject ISIS and their ideals.
"I think that as one of the most respected figures, not only in sports but in the community, it's a very powerful statement," said Hooper. "People have been criticizing us on that for some time now, and I think Trump's proposal is illegal, immoral, unconstitutional; you name it, we feel it."
Get Top Stories Delivered Weekly
More districtchronicles News Articles
Recent districtchronicles News Articles
Discuss This Article