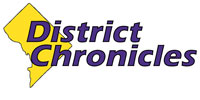 Post Classifieds
Neighborhood revitalization, job creation to get $11 million boost
Metro Brief
On January 12, 2016
More than $11 million will be awarded to local jurisdictions through three of the state's most effective job creation and neighborhood revitalization programs, Gov. Larry Hogan announced this week.
"My administration is committed to revitalizing Maryland's older communities," said Hogan, who will provide funds to Community Legacy, the Strategic Demolition fund and the Baltimore Regional Neighborhoods Initiative. "These grants will help local communities make necessary improvements while paving the way for additional public and private investments in their neighborhoods and along their streets."
Maryland Department of Housing and Community Development Secretary Kenneth C. Holt added, "The Hogan administration is committed to providing restoration and operational capital to those older communities across Maryland whose infrastructure requires immediate attention and repair. We will rely on community leaders and organizations to indicate their most pressing needs and we will respond with quick and effective support."
The Community Legacy program provides local governments and community development organizations with resources for essential projects aimed at strengthening communities through activities such as business retention and attraction, encouraging homeownership and commercial revitalization. Fifty-five projects in 19 counties and Baltimore City received a total of $6 million in Community Legacy grants in fiscal year 2016.
The Strategic Demolition fund is aimed at providing a catalyst to projects that accelerate economic development and job production in Maryland's sustainable communities. Funding provides assistance for critical pre-development activities such as demolition and land assembly in order to attract needed public and private investment to revitalization projects. The administration is awarding $2.075 million to nine projects.
The Baltimore Regional Neighborhoods Initiative is aimed at bringing back the vitality and increasing the ability of older neighborhoods to attract new homeowners and businesses. The awards will advance the comprehensive revitalization plans and strategic partnerships put in place by local neighborhood leaders and stakeholders. The awards of over $3 million for fiscal year 2016 will leverage an estimated $49 million in public, private and philanthropic investments.
Of the $11 million, $1.28 million will go toward Prince George's County projects.
To find out more details about awardees, visit: https://news.maryland.gov/dhcd/2015/12/29/hogan-administration-to-invest-more-than-11-million-to-help-revitalize-downtowns-strengthen-communities/.
Get Top Stories Delivered Weekly
More districtchronicles News Articles
Recent districtchronicles News Articles
Discuss This Article