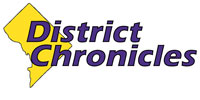 Post Classifieds
Omar Tyree: Shooting from the hip, pen and soon, the screen
By Senior Staff Writer Mary L. Datcher/Chicago Defender
On January 12, 2016
Omar Tyree is riding high on the sweet smell of success. With 28 titles written and published since penning his first novel, "The Diary of a Freshman" at age 23, we are not surprised that he is one of the most recognizable names in modern African-American literature. Tyree's latest book, "All Access," is about the intrusive world of having too much access to our individual lives.
Tyree explained, "With the technology of social media: Facebook, Instagram and Twitter, we witness people doing similar things when you are allowed into their world – inside their house, inside their dorm rooms, inside their bathrooms. It's become the new norm. So, I asked the question, 'How much of your private life are you willing to expose for fame?' That is what they're seeking. They want to become famous from their exposure. That's the book that I wanted to write," said Tyree.
"I created a broadcast journalist, who is given an all-access-pass into the life of a guy who is always getting in trouble."
The book is centered around the two fictional characters, Judy Pierce an Atlanta broadcast news anchor and Shawn Blake, a temperamental superstar who constantly finds himself in precarious situations which bring drama into his personal life. Tyree poses the questions, how much exposure is too much exposure?
"When you see that lifestyle mixed with a 'normal' lifestyle, you can see how quickly it can escalate," he said. "The reality is that most people on reality shows are viewed as crazy anyway and those who have been in the industry are known as such within their family. However, if you're a normal person and your family calls up to ask 'What is this X, Y and Z, I heard that you were doing?' that's not normal. So, I wanted to give people a taste of that and flip it on its head and take it to the extreme."
Over 300 of Tyree's articles have appeared in Black publications over the years as a columnist. His books have generated 2.5 million copies, sold worldwide bringing close to $30 million over his career span. Tyree likes to describe his approach as an inside look at realism with a touch of street swagger and truth.
Tyree enthusiastically breaks down his books.
"Every single book that I've published, I can sum up in one subjective word. 'Fly Girl' is about materialism. 'Do Right Man' is about integrity. 'Single Mom' is about family. 'Sweet St. Louis' is about love. 'For the Love of Money' is about art. 'Just Say No' is about indulgence. 'Leslie' is about poverty. 'Diary of a Groupie' is about being opportunistic and 'What They Want' is about sexuality," said Tyree.
Just like independent music artists, writers find themselves doing a great deal of the heavy lifting. However, writers like Tyree see this movement as an asset and not a liability. Both Code Black Productions and Lions Gate Films have picked up the film production of Tyree's classic "Fly Girl" trilogy starring notable actress, Sanaa Lathan which is slated for a late 2016 release.
"This whole thing now is about my execution. Just knowing that I have a film coming out next year is like riding a tidal wave with my new book as my back up. I want to get out in front of the wave so that I can control it then I can roll out a new OTI book," he smiles confidently.
"I got this old brick truck coming behind me, it's like when you're picking a fight because you know you have 50 cousins coming – that's what I'm doing right now and I'm feeling great."
Get Top Stories Delivered Weekly
More districtchronicles News Articles
Recent districtchronicles News Articles
Discuss This Article