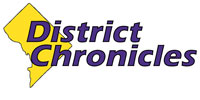 Post Classifieds
Family improves lives of youth with special needs
By Special to the Trice Edney News Wire from the Richmond Free Press
On January 12, 2016
(TriceEdneyWire.com) – Helping those in the special needs community is a way of life for the Mines family of Chesterfield County, Virginia.
Through advocacy efforts and by organizing programs designed to showcase the talents of those in the special needs community, the Mines family seeks to improve the quality of life for people with mental and physical disabilities and other special challenges. It's a labor of love for the tight-knit family of five that has two children with special needs.
The mother, Pam, is founder and executive director of the nonprofit JP JumPers Foundation that she named after her 11-year-old son, J.P. who is autistic and has attention deficit hyperactivity disorder (ADHD). The Chesterfield-based organization seeks to "positively impact families affected by autism, special needs and unique circumstances," according to its website.
Pam was honored for her advocacy for the disabled and for her work to get a bill passed by the General Assembly two years ago known as "J.P.'s Law," after her son, that would allow the Virginia DMV to add a code to driver's licenses and other IDs to help law enforcement officers be aware of an individual's diagnosis.
She and her husband, Perry, also care for their adopted 13-year-old god-niece, Sydnee, who has neurofibromatosis, a genetic disorder of the nervous system, as well as ADHD and is blind in her left eye. They adopted the honor roll student in 2010, after her mother died from complications related to neurofibromatosis. The Mines' 13-year-old daughter, Michelle, is typically developed with no special needs.
Perry fuels his desire to help others by mentoring at-risk youth through his company, Luv'em Like Mines Youth Services in Chesterfield County. The Third Annual Christmas Special Needs Worship Service was held at 3 p.m. Sunday, Dec. 20 at a local high school. There, in an array of performances that evoked tears and cheers from audience members, children and adults with special needs ranging from autism and cerebral palsy to Down's Syndrome and intellectual disabilities sang, danced, displayed art, played the piano and guitar and even preached.
Pam said she and her family pour their hearts and souls into the effort "because we want to celebrate an often overlooked community. We don't think it's a punishment, an accident or a curse to be affected or have a loved one affected by special needs. We consider it a true appointment by God and we take it seriously. The bottom line is I'm so glad God chose me to be inspired by a child with autism."
She said the faith-based service is designed to be welcoming to all performers and includes a wide array of acts for the audience to enjoy.
Jordan Ohree, an 18-year-old autistic youth who graduated last year from Varina High School, served as master of ceremonies at the service. He also earned intern of the week honors this month through Project Search at Bon Secours St. Mary's Hospital in Henrico County.
Perry called the showcase event "an awesome thing that allows people with special needs to perform and feel good at the same time."
"It's important to them for the community to show their support and to let the people that care for them to know that they can be a part of something special like this," he added.
J.P. brought down the house last year when he concluded the show by performing "Is This the End" by New Edition. He plans to sing "Got to Be There" by Michael Jackson during the event.
"I like performing," said Sydnee who sang "Glory" by John Legend and Common. "It's nice to do it because I'm looking at family. If I mess up, it's going to be OK because kids won't make fun of me."
In order to cover the cost of the venue and the food after the service, JP JumPers Foundation has a GoFundMe campaign to raise $3,500. To donate, go to www.gofundme.com/2015JPJFgivingTree.
Get Top Stories Delivered Weekly
More districtchronicles News Articles
Recent districtchronicles News Articles
Discuss This Article