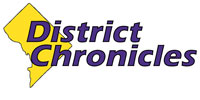 Post Classifieds
Black businessmen stand up for using Black-owned banks
By Hazel Trice Edney
On January 12, 2016
(TriceEdneyWire.com) – In a strategic effort to continue circulating dollars in the Black community to every extent possible, a group of Black male entrepreneurs led by the U.S. Black Chambers Inc. (USBC) has opened accounts with the D.C.-based, Black-owned Industrial Bank.
"In order for there to be a strong Black America, you must have strong Black businesses. In order for there to be strong Black businesses, we must have strong Black banks," said USBC CEO Ron Busby Sr. "So, from my standpoint, this is just a reciprocation for what Industrial Bank has done for our communities for the last 80 years. There's a trillion dollars of spending power in our community and we want to make sure that dollar stays within our community."
The 15 young men who gathered in Industrial Bank's lobby are members of the Black Male Entrepreneurship Institute (BMEI), which is in partnership with the USBC. The meeting took on a celebratory mode as Industrial President/CEO Doyle Mitchell congratulated Busby for his influence.
"I'm just humbled at the presence of mind that you have displayed since you first came to town and started taking a leadership role with the Chamber of Commerce and came to Industrial Bank and made a $5,000 deposit. You put your money where your mouth is," said Mitchell. "Our only solution for us to get out of the situation that we are in as Black people is Black on Black economics."
Busby recalled that when he made that $5,000 deposit five years ago, he was intentionally choosing Black businesses in every area of his life. Buying a house at the time, he said he made sure he had a Black mortgage company, title company, home inspector, pest control company, and moving company Since then, Busby has become a leading advocate for support of Black banks and Black-owned businesses. In that regard, USBC has now launched an ongoing fundraising effort for the BMEI, co-founded by Randall Keith Benjamin, Jr. and Howard R. Jean, who accompanied the young entrepreneurs to the bank.
"This is bigger than just a moment or taking pictures. It's about how can we go out of our way to make sure that our communities are as strong as possible," said Benjamin.
According to Jean, a BMEI reception and launch will take place Jan. 15, 2016 "We know that our community banks are the strongest funder of small businesses, particularly Black businesses in the community," said Jean. "So this is our campaign, starting here at the Industrial Bank in Washington, DC as we launch nationally with BME to encourage and inspire other entrepreneurs – male and female – of all ages to start banking Black."
Get Top Stories Delivered Weekly
More districtchronicles News Articles
Recent districtchronicles News Articles
Discuss This Article