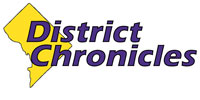 Post Classifieds
RushCard empowers, helps people manage money
By Dr. Benjamin F Chavis Jr.
On January 12, 2016
The financial services industry is a vast matrix of banks, credit and debit card products, venture capitals and mortgage companies, investment firms, and many other financial institutions that compete to provide services to more than 320 million people in the United States and millions more around the world. There is a very old saying that posits: "How you manage your money will determine how well your heart will beat."
For more than 100 million African Americans and Latino Americans, that spend $2.4 trillion annually as consumers in the U.S. marketplace, the daily and hourly financial management of money is an important issue. The RushCard, developed by entertainment mogul Russell Simmons, is an effective and efficient money management tool for millions of "unbanked" and "underbanked" people throughout the United States. According to a 2014 FDIC report, 22 percent of unbanked households used a prepaid card, compared with 13 percent of underbanked households.
Simmons is a global entrepreneur. He continues to have the highest possible integrity and commitment to help people improve their quality of life. His entrance into the financial services industry was timely and providential. For over the past 10 years the RushCard has steadily emerged as an invaluable money management prepaid debit card for hundreds of thousands of card users across the nation. RushCard is owned by Simmons' company, UniRush, LLC.
Notwithstanding recent computer software glitches that have now been resolved concerning the use of the RushCard, it is my opinion that the RushCard today will be a productive and very useful prepaid debit card to use for each member of your family. Why? First, the RushCard meets the Visa Clear Prepaid standards for clearly communicated fees and consumer protections.
Secondly, if you go to www.RushCard.com, you will find that there is a user-friendly online process that explains how you can apply for the prepaid debit card. The mission of the RushCard is publicly affirmed to "Empower our members by providing products and services that enable them to achieve control and realize their personal hopes and financial goals."
Thirdly, the RushCard has been around longer than most prepaid cards and has achieved a number of "innovative firsts" in the industry to better serve its card users including but not limited to the following:
One of the first prepaid cards to offer direct deposit;
One of the first prepaid cards to offer check-writing capabilities to its members;
One of the first prepaid cards to offer cash loading at more than 35,000 MoneyGram® locations, nationwide; and
One of the first prepaid cards to offer comprehensive money management tools that make it easier to track balances, create monthly budgets, and analyze spending.
My family members use the RushCard because it is user friendly, but importantly, we use the RushCard because of Simmons' trustworthy leadership in the financial services industry. The Consumer Report recently named the RushCard the 4th highest rated prepaid card used as a substitute for a bank account.
Simmons recently stated, "As a thank you for sticking with us and to support your cash needs during the upcoming holiday season, we've declared a Fee Holiday Season, meaning from November 1, 2015 to February 29, 2016, you can use your RushCard without incurring any fees from our Fee Schedule. You don't need to take any extra steps to participate in this special offer. Just pull out your RushCard and use it for all of your holiday needs."
The no-fees for use of the RushCard applies to both current and new RushCard holders. Again, we all should strive to get better control over how we manage our money. I have found that using the RushCard does in fact help to manage savings, investments and spending. Financial empowerment will be the result of proper financial management.
Dr. Benjamin F. Chavis, Jr. is the President and CEO of the National Newspaper Publishers Association (NNPA).
Get Top Stories Delivered Weekly
More districtchronicles News Articles
Recent districtchronicles News Articles
Discuss This Article