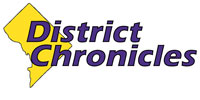 Post Classifieds
Willie Jolley's wealthy ways: Roberts brothers success story
By Willie Jolley/George Curry Media Columnist
On January 19, 2016
Michael V. Roberts has been turning the business world upside down since the 1970s. With his brother, Steven, Michael started Roberts-Roberts & Associates, a consulting firm. The brothers have gone on to build an empire estimated in excess of a billion dollars in revenue.
Born in St. Louis, Missouri, Michael is the eldest of four children, born to a postal worker, and a homemaker who became a teacher after her children were grown. The brothers would say, "We're not poor, just never had any money after buying food and paying the rent."
The brothers inherited their parents' work ethic and put themselves through college and law school. Michael was elected to the city council. And a few years later, Steven was elected to the same city council.
After their terms ended, the brothers started their own consulting firm, Roberts-Roberts & Associates. Its main focus was to help companies figure out ways to increase minority business participation in government contracts. Plus, because they were concerned about the decline of the city, especially North St Louis, they started buying up boarded buildings and repairing them.
The Roberts Companies grew into one of the biggest development businesses in the country. Michael used his natural skills as a businessman to help the business thrive.
In an interview with Forbes magazine, Michael said, "We grab at a chance and then figure out how we're going to do it and how we're going to pay for it." His approach worked, and the business grew.
They went on to add other companies to that mix in the field of telecommunications, television, radio and hotels.
In his book, "Action Has No Season," which is based on his personal wealth building philosophy, Michael shares that one must act on opportunities, then figure out how to pay for them and grow them.
Michael V. Roberts decided to act on his dreams in good times and bad times, in season and out of season. He made those actions the standard of wealth building, not only for himself and his family, but also for family members yet unborn. He decided to first become wealthy, and then write his book to share with people how he did it and how they can do it as well.
In this powerful interview with him on my SiriusXM show, Michael shared incredible ideas and insights:
Make it important to become wealthy.
Reframe your thinking and your attitude so you can see wealth as not only possible butalso "doable" now.Be ambitious. Be action-oriented. Be excited about becoming wealthy.
When you wake up every day, you have 86,400 seconds and 1,440 minutes to use. Use them wisely and make them work for you.
Success is based on thinking and then acting on those thoughts. Take action daily.
Fear is an emotion, but also mental programming that can be re-programmed. See theexperience from a different perspective, where you don't ever fail, but rather you learn new lessons towards success.
Work daily on eliminating fear of failure, for failure is a mental construct. It is something you can get over.
Create your own success story. Make lots of money and use it to better the world.
Rich people scream, but wealthy people whisper. Don't just look wealthy; be wealthy andteach your children how to maintain it.
Don't wait for your destiny to come to you. Go out to get it! In other words, you must make it happen.
I would like to give my readers a special gift. Send us an email with "Reader Gift" in the subject line to wj@williejolley.com.
Willie Jolley hosts a motivational show on Sirius XM Satellite Radio. He is the author of several best-selling books and can be reached through his website, www.williejolley.com
Get Top Stories Delivered Weekly
More districtchronicles News Articles
Recent districtchronicles News Articles
Discuss This Article