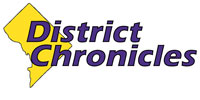 Post Classifieds
Mayor Bowser Announces Open Data Initiative, Names New Chief Technology Officer
Metro Brief
On February 1, 2016
Mayor Muriel Bowser announced a groundbreaking new Open Data initiative and announced Archana Vemulapalli as the new Chief Technology Officer for the District.

"The District has become a mecca for social innovation and technology – and the Office of Chief Technology Officer is instrumental in building that capacity within our government," said Mayor Bowser. "Archana Vemulapalli is the person to keep the District on the cutting edge of technology and enhance the service delivery for District agencies and residents."

The District's Open Data push delivers on the Mayor's commitment to utilize technology to innovate, increase transparency and improve accountability across government. As part of the push, the Office of the Chief Technology Officer (OCTO) has created drafts.dc.gov which includes a draft Open Data Policy that the public, tech activists and government officials can provide their feedback on for the next four weeks. The policy will be updated yearly.

The new draft policy calls for:
Hiring a new Chief Data Officer at OCTO
Partnering with the community to launch an Independent, Regional Data Catalog
Launching an Open Source Program
Reviving the Open Government Advisory Board
Once adopted, the Data Policy will modernize and significantly expand the District's central data catalog allowing the public, media, entrepreneurs and academics greater access data, from information on traffic patterns to invaluable health statistics. For the first time, DC Government will also have a centralized home where agencies can share code openly and proactively encourage public participation in the development of its technology, paving that new path for collaboration and innovation.
"The information we gather collectively with the input from residents and stakeholders helps us learn from our successes and shortcomings, and plan for the future," said Mayor Bowser. "When we share our knowledge with District residents, we are more effective – and more powerful. With this policy, we will make the District one of the most open jurisdictions in the country."

At the announcement, Mayor Bowser revived the DC Open Government Advisory Group, which will be a forum for direct feedback from stakeholders. Advisory committee will include representatives from eight District agencies and eight Public Members, which are Robert Becker, Kathryn Pettit, Justin Grimes, Shannon Turner, Aliya Rahman, Joshua Tauberer, Clarence Wardell and Sandra Moscoso.

The announcement is part of a Bowser Administration effort to expand the use and accessibility of data throughout government. This includes the Metropolitan Police Department publishing of topline crime stats every business day and the Deputy Mayor for Planning and Economic Development launching an Economic Intelligence Dashboard, an open-source economic data tool to drive positive change and build good government for DC residents, particularly on DC's economic development priorities.
Get Top Stories Delivered Weekly
More districtchronicles News Articles
Recent districtchronicles News Articles
Discuss This Article