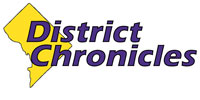 Post Classifieds
Meadows gets Norton's wrath for education bill that harms D.C. schools
Metro Brief
On February 17, 2016
Congresswoman Eleanor Holmes Norton (D-DC) has blasted Rep. Mark Meadows (R-NC) for introducing a bill that would put the federal government in the position of using its power to dictate to a local jurisdiction how to spend its local education funds.
The bill would force the District of Columbia to direct its local funds away from the D.C. Public Schools (DCPS) and public charter schools toward vouchers for any student who chooses to attend private schools.
Norton said she was deeply disappointed that Meadows, whom she has worked with in his role as chairman of the House Oversight and Government Reform Committee's (OGR) Subcommittee on Government Operations, which has jurisdiction over D.C., had chosen to go out of his way to interfere with a local jurisdiction's taxes, education system, and right to self-government. She said it is likely no coincidence that Meadows chose to introduce his bill on the same day he will be speaking at the Heritage Action's Conservative Policy Summit.
Norton said Meadows has aligned himself with Sen. Ted Cruz (R-TX), who introduced the same bill two weeks ago in an effort to bolster his presidential ambitions. She said it was also curious why Meadows would introduce a D.C. private school voucher bill after OGR last year had a field hearing on – and eventually passed – another D.C. voucher bill, which would use only federal funds and was a pet project of former Speaker John Boehner (R-OH).
Boehner's bill was passed by the House last year and is pending in the Senate. Norton said if Meadow's bill was passed by the House and sent to the Senate, the question would be which bill the Senate should consider – Boehner's bill or Meadows' bill. Norton said that such confusion could arise only when there is disrespect for local government by members who claim adherence to the Tea Party, which prioritizes local – not federal – control.
Norton said the Meadows bill is even harder to explain after the Republican-controlled House and Senate last year rejected all amendments to establish national voucher programs as part of their bill to reauthorize the Elementary and Secondary Education Act.
"Rep. Meadows pretends to be a friend of the District, but this bill demonstrates his contempt for the city's local home-rule rights and how easily he abandons his adherence to the principle he often espouses – local control over local affairs," said Norton. "The House already passed a D.C. voucher bill that ignores the interests and wishes of our local officials, but the Meadows bill adds insult to injury by seeking to force District residents to pay for a private school voucher system it does not want or need. We will not rest until we ensure that this bill does not move in the House or Senate."
Get Top Stories Delivered Weekly
More districtchronicles News Articles
Recent districtchronicles News Articles
Discuss This Article