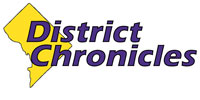 Post Classifieds
Bonds to introduce legislation limiting late fees to no more than 5 percent
Metro Brief
On March 14, 2016
At-Large Councilmember Anita Bonds, Chairperson of the Committee on Housing and Community Development, has introduced legislation that limits late fee charges to not more than 5 percent of the tenant's monthly rent.

The Rental Housing Late Fee Fairness Amendment Act of 2016 regulates how housing providers may impose late fees upon tenants for the late payment of rent by establishing fair and uniform standards.

The bill specifically defines a "late payment" as any amount of rent that is not paid within 10 days from the time a rent payment is due.

The bill also prohibits a housing provider from charging a tenant a late fee of more than 5 percent of the tenant's monthly rent owed, which can amount to an extraordinary burden for many low-income tenants.

Additionally, the bill prohibits a housing provider from deducting a late fee from future rent payments, which can cause timely rental payments to be late if the tenant has not yet paid the original late fee. Currently, some housing providers charge a late fee not only in the month when the payment is missed, but each month thereafter until the tenant becomes current on all late fees.

Finally, the bill requires housing providers to provide a tenant with written notice that a late fee of up to 5 percent may be charged for the late payment of rent.

"This needed bill will provide over 125,000 rental units with new protections against unscrupulous landlords and outrageous late fees when they fall behind on their monthly rental payments," stated Councilmember Bonds.

Currently, D.C. law is silent on how large a late fee housing providers may charge a tenant, resulting in late fee practices that vary widely among District housing providers. Passage of this bill would put the District in line with other states such as Maryland, Maine, and North Carolina which have laws restricting fees to 5 percent or less; and prohibiting housing providers from subtracting late fees from future rent payments.
Get Top Stories Delivered Weekly
More districtchronicles News Articles
Recent districtchronicles News Articles
Discuss This Article