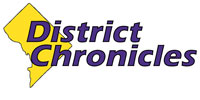 Post Classifieds
The Black Press excites DC area 3rd graders with Robots, drone and STEM
By Tatyana Hopkins
On March 21, 2016
The third graders got a taste of what it means to be a scientist or engineer. You invent fiber optics that makes smart phones and other modern technological wonders, including the High Speed Internet Platforms work the way they work.

You design robots that go to Mars to bring photos from the Red Planet, and expand human understanding of other planets in the universe. You manufacture drones that keep an eye on what goes on at a rancher's farm. You design Humanoid robots that respond to voice command.

That is what nearly 100 third-grade, middle and high school students from DC schools got to see and experience on a balmy Friday morning at the sparkling new Howard University Interdisciplinary Research Center on Georgia Avenue on March 11.

Dr. Thomas Mensah, inventor of fiber optics and NNPA Foundation STEM ambassador to K-12 students, brought three other top-notch Black scientists and an all women's team of robots designers from Spellman College to a panel discussion and demonstration of their inventions.

The event, the second of a series of events the NNPA Foundation is sponsoring across the nation, was sponsored by the American Petroleum Institute. The foundation's goal is to engage, diversify and increase Black participation in science, technology, engineering, and mathematics, said Al McFarlane, chairman of NNPA Foundation.

THE NNPA, popularly known as the black press, is a trade association of nearly 200 black-owned community newspapers in the country. It hopes to stimulate a national conversation about the importance of STEM education and employment to its 20 million readers through its member newspapers and social platforms and other non-member media.

"It's the first time the black press has convened an audience of this kind — scientists, college students and seven-year-olds," said McFarlane. "We want you to dream and imagine yourselves in space. I bet there are people in this room who will be on Mars," McFarlane told the future scientists at STEM Reach 2020.

STEM jobs are growing faster than any other U.S. sector. According to the U.S. Bureau for of Labor Statistics, jobs in STEM are set to grow by 17 percent by 2024, while non-STEM jobs will only grow by 12 percent.

Technology companies will need 650,000 new workers by 2018. Though nearly half of the children in the United States are minorities, they will most likely remain underrepresented in STEM fields.

African-American and Latino workers represent 29 percent of the general workforce, but only 12 percent of the engineering workforce, 16 percent of the advanced manufacturing workforce, and 15 percent of the computing workforce.

According to the 2015 U.S. News/Raytheon STEM Index, though there was increased minority employment activity, interest, and degrees earned in STEM fields continue to be white and Asian male dominated, leaving minorities and women lagging.

Auli Young, 10, a fifth grader at School without Walls at Francis Stevens, got up close and personal with Spice, a Lego robot designed by Spelman College students as his classmates frantically tapped its front end to prevent it from falling off the table.

"How does it turn," Young asked NASA Mars Lander designer, Dr. Edward Tunstel, a graduate of Howard University's department of mechanical engineering. Tunstel is a senior roboticist at Johns Hopkins University Applied Physics Laboratory. He explained that the two-wheeled bot turned to avoid hitting the ground using differential drives.

"The best way to talk about STEM is one-on-one," said Dr. Ashitey Trebi-Ollennu, designer and robotic expert at NASA Jet Propulsion Lab at California Institute of Technology in Pasadena, CA. "Let the young people ask you questions."

The kids obliged. They fired commands at Spice, the humanoid robot that won Spelman students 3rd place in a robotics competition last year. The mission of Spelman College's robotics team, SpelBots, is to encourage students and young women of African descent to explore robotics and computer science. The team made history in 2005 as the first all-female undergraduate entry in the International RoboCup soccer competition.

"Raise your hand!!" commanded one of the third graders.

Spice obliged, raising her hand like any intelligent human being would at the command of his or her superior.

"Bend your leg!" yelled another third grader!"

Again Spice obliged.

"Do a flip!" yet another future scientist commanded.

"No. No. We have not programmed him to do flips!" protested one of the Spellman scientists.

"Because, I am a girl people will tell me no, you can't do," said Tatia Jahen, 12.

Jahen, who has a love for science, enjoyed the panel discussion with the robotics team from Atlanta's Spelman College. She said she is the only girl in her sixth grade advanced math class at School without Walls. She said the demonstration and talk gave her ideas for her school's upcoming science fair. She said she would like to see more opportunities to explore STEM outside of field trips.

The kids couldn't get enough of Spice, but there was more fun at tables in the main lobby of the Interdisciplinary Research Center where they crowded the tables. At one table, Bill Blackwelder, president of Delta Southern Space UAS and Dr. Mensah demonstrated a small commercial drone to the young and eager scholars. At two other tables, Dr. Tunstel and Dr. Trebi-Ollennu showed off their creations to the excited and boisterous future scientists.

"This should happen every day," declared an elated Fernando Hernandez, director of Microsoft Supplier Diversity. " Everyone should have equal opportunity to participate in STEM. We owe it to society."

Microsoft sponsored the Spelman team's participation in the event.

"Because, I am a girl people will tell me no, you can't do," said Tatia Jahen, 12.

Jahen, who has a love for science, enjoyed the panel discussion with the robotics team from Atlanta's Spelman College.

"The right stuff comes in black too. Black people have been doing great things," Thomas Mensah, inventor of fiber optics and NNPA Foundation STEM 2020 Ambassador said to the nation's Black youth.

Mensah told those at the March 11 event that seeing Neal Armstrong on black and white colored television inspired him to pursue a career that would eventually lead him to be one of four inventors that developed technology that is now the basis for today's telecommunications.

Dr. Mensah was elated by the kids' enthusiasm for robots and drones.

"This is good. It's historic," he declared. "We have decorated scientists, college students, and third graders talking and experiencing science. The 82 kids in the Nations Capital were the luckiest In the country to interact with the Designers of The Mars Rover Lander, the robot that landed on The Red Planet and brought photos that the news papers, TV Stations, blogs and other social platforms reported on around the world.

"These Kids were taught how to assemble and Command robots by these NASA experts that look like them, I mean African Americans. The Kids in their curiosity rushed to the front of the program to see the humanoid robot built by the Spelman students and interacted with them, asking tough questions."

Howard University Provost Anthony Wutoh and Associate Provost for Research and Graduate Studies Gary Harris welcomed the kids and scientists to Howard, not knowing what to expect. But at the end of it all, the two top executives of Howard University were pleasantly surprised at how the kids took to the commercial robots and drone with gusto.
Get Top Stories Delivered Weekly
More districtchronicles News Articles
Recent districtchronicles News Articles
Discuss This Article