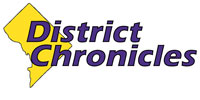 Post Classifieds
Operation Second Chance gets a visit from Congressman Delaney
On April 20, 2016
GERMANTOWN, MD - Since 2004 Operation Second Chance, a non-profit organization based in Germantown, MD, has worked tirelessly to provide emergency financial assistance and morale boosting retreats and activities to wounded, injured, and ill post 9/11 combat veterans and their families.

Its President and Founder, Cindy McGrew, saw the need for a 'grassroots' Organization that would never lose sight of the goal to provide relief for the men and women of our armed forces who have sacrificed so much in the name of freedom.

Nearly 12 years after its inception, Operation Second Chance continues to grow. With the help of community leaders, corporate sponsors, and generous donors, the organization has provided over 3 million dollars in financial support to wounded veterans.

Through the years, the Operation Second Chance Advisory Board has stood by Cindy to find new ways to garner donations without succumbing to the costly pitfalls of advertisements. Ensuring that OSC's overhead remains at 10%, advisory board members like Tom Plant, Clark Wagner, Bud Otis and others, have kept to the grassroots mentality and helped share the mission, one person at a time.

Business owners such as Mark Matan (of Matan Inc. a commercial real Estate investment firm) have also helped Operation Second Chance to maintain a low overhead by donating the office suite from which they operate daily.

"We thought, 'who better to help tell our story than the congressman over the district where we are headquartered in," Plant stated. Within days of inviting Congressman Delaney to the office, a date was marked on the calendar, and the congressman was excited to learn how OSC has operated with such low overhead all these years.

Members from Ride Allegheny, a group of cyclists who ride 310 miles from Pittsburgh, PA to Gaithersburg, MD to raise funds for OSC joined the meeting to tell their story of how they got involved with Cindy. "We started off as a group of neighborhood guys who just wanted to ride, but we realized there was so much more we could do," said Clark Wagner, "last year we raised $450,000 for Operation Second Chance."

Upon hearing that "neighborhood guys" brought in $450,000 dollars in donations, the Congressman jumped in on the conversation, eager to learn more of the unique ways Operation Second Chance has received donations for American Veterans. As the meeting concluded, Congressman Delaney was excited to have had the chance to meet the Operation Second Chance team, as well as the Advisory Board, and offered his commitment to help further the cause. "I'd even like to ride with you," said the Congressman, as Clark and the others leapt for a pen to sign him up.

"We are extremely excited to have Congressman Delaney's help and support," said President and Founder Cindy McGrew, who is no stranger to recognition from political leaders, having had the chance to meet President George W. Bush when she won the President's Volunteer Service Award.

"Operation Second Chance is ready for the next level, and with the help of Congressman Delaney, we are sure we can get our story told to a whole new audience," Cindy concluded.
Get Top Stories Delivered Weekly
More districtchronicles News Articles
Recent districtchronicles News Articles
Discuss This Article