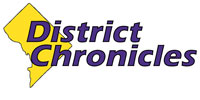 Post Classifieds
Free dresses, suits give students new hope for prom
By Taj Brayboy and Diandra Bolton/Howard University News Service
On April 20, 2016
Masada Johnson gazed at the excited teenagers busily probing the colorful explosion of floor-length dresses that had been gathered just for them in preparation of their big day – prom.
Watching them reminded Johnson why she was there.
Under glittering chandeliers, the high school girls perused racks and racks of pastel blues and purples, sequined silvers, salmon satins, crimsons and creams and golds and blacks.
In another room, there were shoes and small handbags and other accessories, and they were all free to these girls who so desperately wanted to look just right on their special night.
"This opportunity is something my family and I would have definitely participated in if it was around when it was my time to go to the prom," said Johnson, who manages the program that made this day possible.
Johnson didn't go to her prom. Her family simply couldn't afford it, an event that Visa estimates costs the average American household $916. So, Johnson volunteers with Family Matters of Washington to provide students the opportunity she didn't have.
The organization's Dresses4Dreams and Suited4Dreams, this year, offered over 200 free new and used prom dresses as well as suits and tuxedos in a business center conference room last week in Southwest D.C. for Washington students.
Family Matters, which provides various services to families throughout D.C., has held its boutique event for five years. It donates prom dresses and suits to underprivileged District youth 14 years and older.
"When we got here, I was completely overwhelmed at the colors and options," gushed Jazmine Harris, 17, of McKinley Technology High School. "There were so many colors and textures. I couldn't wait to touch them."
If the girls struggled to find the right dress, there were professional stylists and local designers available to ensure they left with the perfect match.
Stylist Brandy Sims helped Harris find her dress, a strapless red garment with ruffles at the bottom.
"The dress fit her perfectly," said Sims. "It doesn't need any alterations, just some simple accessories. The red color speaks for itself. It also compliments her blonde hair perfectly."
Kia Thomas, the mother of two high school students, was also there.
"My daughter found a beautiful red dress with feathers on the end that fits her like a glove," said Thomas. "I will also be back for the Suited4Dreams event for my son tomorrow to pick out a tux."
Liza Rahman, 17, said she heard about the event through her academic advisor at Woodrow Wilson High School. She did everything to make sure she cleared her schedule so as to not miss this opportunity, she said
"I am working two jobs right now," she said. "I am going to two proms this year so this helped me out a whole lot. Now I only have to worry about one more dress, or I can wear this one to both."
Jamari Jackson was one of about 20 boys who came on the second day for Suited4Dreams. Jackson, 17, said he had only owned one suit until he picked out one last week. Jackson is a senior at Wilson High School who hopes to go to Morehouse College to study economics. He said the suit will be a valuable asset.
"This definitely helped me," he said. "I can use this suit again for internships, interviews and going out."
The pièce de résistance: a raffle for a custom-made dress and accessories by local designer William Henry Rawls.
Kelly Lee, 17, was shocked when she was announced as the winner. Lee, a student at Phelps Architecture, Construction and Engineering High School, said she couldn't believe her name was called, because she "never wins anything."
"The crazy part is I've had this cut out of my dream design from a magazine since I was a very little girl," said Lee. "This is great because I knew my family couldn't afford to get me a custom-made dress. It was just a dream, and now it can be a reality."
Get Top Stories Delivered Weekly
More districtchronicles News Articles
Recent districtchronicles News Articles
Discuss This Article